by Bill Buckley, Contributing Writer
April brings us calmer seas, warmer water temps, increased numbers of baitfish and the predators that feed on them.
Beach and jetty anglers from Boca to Boynton inlets will have opportunities to tangle with jack crevalles and snook. Cover ground using topwater lures, Flair Hawk jigs, or chrome spoons.  Look for baits busting near shore.  Bring a small cast net to take advantage of baitfish that may be pushed within feet of the sand.  There may also be tarpon cruising the shallows during the early mornings.  You don't need anything fancy.  A simple mullet head on a circle hook can be your ticket to a great battle.
Joe Donnelly of Boynton Beach suggests inshore anglers can find success near the spillways targeting snook and jacks with topwater lures, Flair Hawk jigs, and live pilchards and shrimp.  He also mentions sheepshead and black drum can be found around most bridges from George Bush Blvd. in Delray north into Palm Beach.  Live shrimp and light tackle are the choice for these species that graze along the pilings and seawalls.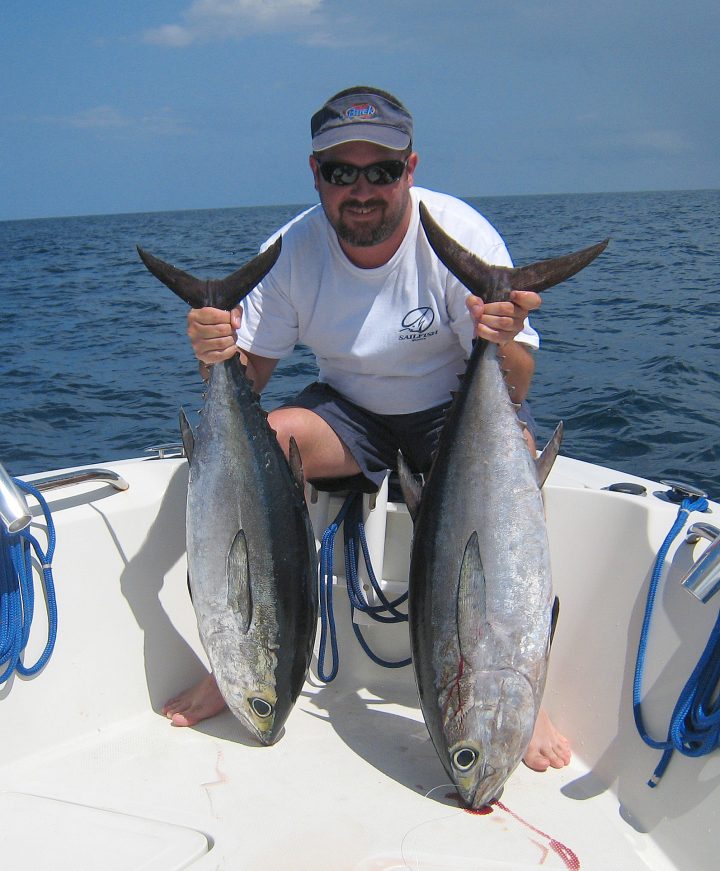 Reef anglers can expect decent numbers of yellowtail snappers. Anchor over reef bottom with at least a few knots of current. Chum heavily and free-line silversides, cut squid, or frozen shrimp on small weighted hooks at the end of 10ft of 20lb fluorocarbon leader.  The fish may be far back at first, so be prepared to let out a lot of line. Unfortunately, filefish and triggerfish have become a real nuisance to reef anglers during the daytime.  Your best chance to avoid those bait-stealers is to fish after sunset, or when current is fast.
Many "football" blackfin tunas are already being caught from 100-300ft. Be sure to have one or two small "feather" lures way back in your spread when trolling.  Daisy chains of small lures are also very effective.  For those targeting sailfish, of which there are still plenty around, live-baiting with threadfins and goggle-eyes can produce bonus blackfins in the 15lb range, with even larger ones showing up later in the month.
The warmer Gulfstream waters bring increased opportunities for dolphin.  Run 8-15 miles offshore early on calm days to scout for weedlines, rips, and debris that may hold baitfish and the phins that stalk them.  Troll skirted and naked ballyhoo to locate dolphin, and be prepared to free-line chunks of sardines or squid to schoolies that often follow a hooked fish to the boat.  If you encounter a school that just won't bite, repeatedly cast a bucktail jig, ripping it across the surface as fast as possible.  This will usually trigger an instinctive strike, and may fire up the rest of the school to start feeding.