by Ed Ottenthal, Contributing Writer
The month of January along our southeast coast offers anglers a chance at a vast variety of migratory fish, along with the many resident species that inhabit our waters all year long. The wise angler will be watching for the schools of baitfish that are being chased by the marauding predators, a tell-tale sign that they are on the feed. If an angler is lucky enough to encounter one of these blitzes, he or she will have some great memories that will last for a lifetime.
Whether an angler is fishing from the beach or near shore in a boat, it is wise to add a short piece of light wire to the leader because these predators are toothy critters and the wire will not deter them from chomping down on the offering. Much of the action is on the surface this time of the year, so the use of surface plugs and popping plugs work well. It is a lot of fun to have Spanish mackerel, bluefish, jacks and an occasional king mackerel slam a surface lure when it looks like a fleeing baitfish trying to escape. Jigs often work well also when there are no blitzes taking place. One little trick is to tip the jig with a piece of shrimp or squid; this will give the jig some smell and some action.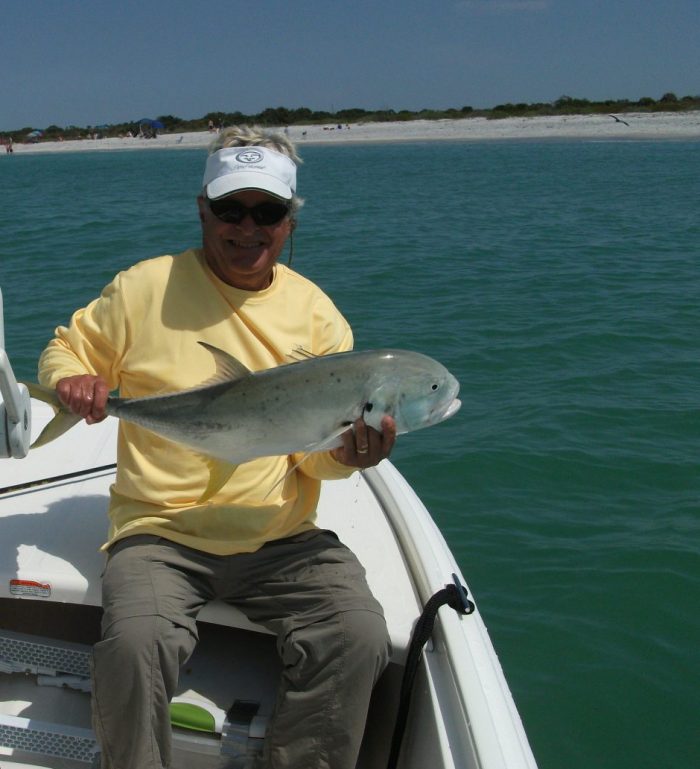 This month also brings with it cobia. This is a prized fish that cruises in a little deeper water, sometimes in the accompaniment of big rays or around a weed line or flotsam. If a ray is present, throw an offering near the ray and maybe you will be rewarded with one of these great fish. Tripletail will also be present around debris or buoys. Throw a shrimp at one of them and an angler will not be disappointed with the fight or the table fare. All that must be remembered is the sharpness of the gill plates. Stay away from them to be safe!! Sheepshead will also be present around docks and rocks. A great presentation is to tip a small hook with a piece of shrimp, but the best are fiddler crabs or mangrove crabs. These fish fight well and are great for eating, but a pain to clean. The cleaning part is well worth the effort when on the table.
Nighttime fishing near lights and structure is a good time to target snook. But be sure to check the fishing regulations concerning snook, because they are constantly changing. They have closed for capture recently.
A note of safety! Recently my boat was boarded and inspected by the Marine Police. They checked everything from lights to life preservers. When they checked my flares, I was told they were outdated! Get ready for a ticket! I then showed them my NEW flare light from DEFENDER. This electronic flare is USCG approved with an SOS distress light and will never expire like ordinary flares. Be safe, contact them at www.defender.com