Rene Hesse
Where do you want to go fishing? When you think of the options, most folks think of a local stream or lake, but, get this: there is a world-class fly fishing destination just outside of Atlanta. It's a day trip with trophy trout.
While shopping in a local fly shop, I met a dad getting gear to take his son fly fishing for his 16th birthday. He said they never really catch anything, but it's good bonding time; I agreed. After he told me they were both new to fly fishing,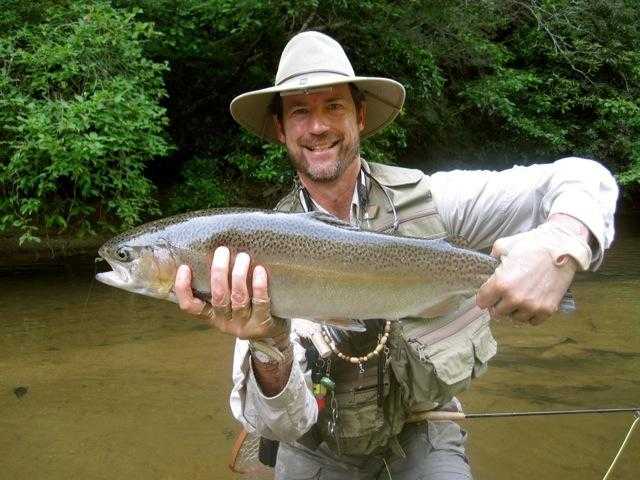 I suggested they make an hour drive north of Atlanta to a trophy trout stream called Frog Hollow. The day could be filled with all of the things that make a father-son trip special; the pre-trip planning and getting gear ready, breakfast on the way, talk in the truck, snacks, and the quiet times dreaming about the big fish. They could actually catch a big fish on this trip, and the pressure would be off dad to guide. The shop owner got him a card for the guide on the stream, and I'm sure he put it to use.
If there is a choice of fishing in a stream with small fish or large fish, most of us will go large. Frog Hollow is on the upper end of the Chestatee River in North Georgia, and is privately owned and managed. The manager, Kenny, is the type of guy you would want for a brother—easy going and cool. That's the feel of the property, too. Whenever I see the open field with the horses, pasture and beautiful home, I say, "wow," and that's before I get to see the stream. Waterfalls that plunge into deep pools, large shoals, rocks and tail-outs; it looks like there is a fish at every point on the river, and there probably is.
As an instructor for the Federation of Fly Fishers, and the organizer for the Atlanta Fly Fishing Meetup Group, I get to fish there a few times a year. I never get any sleep the night before; I'm too excited. If you would like to visit the property, there are several ways to fish for those big fish, but don't be fooled into thinking they will hit anything. When I have a special guest in town we opt to reserve the stream for ourselves, and you can, too.
Where do you want to go fishing? I want to go to beautiful places with big fish, close to home, that I can get to a few times a year; and that's down in the Hollow. No matter where you're from put it on your bucket list; you won't be sorry!