In March of 2016, nine friends and I flew out to Costa Rica for a week. We rented a large open-air villa in the jungle outside of Manuel Antonio and Quepos. I was a bit nervous regarding the open air home but the bugs and heat were not an issue. There were several occasions when monkeys swung by on the tree tops and stopped on the balcony to steal some bananas that we picked in the backyard. At night you could hear the howler monkeys howling and the lizards making an indescribable noise from our ceiling. It took me two days to realize it wasn't a bug in the room with us!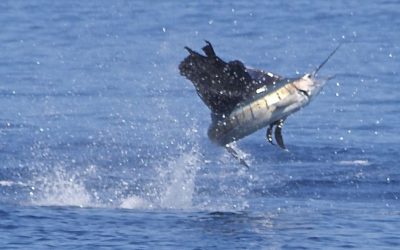 We ventured out several times to explore Costa Rica and ended up on numerous remote beaches, parasailing high above the water, and hiking through the jungles. Our favorite trip, by far, was when we went out with Captain John of Quepos Fishing Adventure. We were met at the Marina outside of Quepos and taken out to sea. The waters were calm and it felt as though we were on a large lake rather than a few miles offshore.
After a few minutes of trolling, we were hooked up to our very first sailfish of the day. It took several minutes of reeling and fighting the fish but it was finally landed. A quick picture with our catch and we were right back to trolling for more. Out of the three of us that went out, we each landed two sailfish each. I told Captain John that we had seven people at our Villa that would love to have some fresh fish for dinner. We could've caught sailfish all day but decided to head out to sea to find a large school of tuna. It wasn't long until we arrived at the largest pod of dolphins I had ever seen. They were jumping, spinning in the air, and following
our boat around. The tuna schools were mixed in. We rigged up some artificial lures and started to troll for tuna. It wasn't long until we had some hooked up. They were boated quickly and filleted.
That night, we were treated to the freshest tuna sashimi you could have. We brought back a few pounds of tuna for our friends and had a Chef prepare it several different ways at our Villa. We all sat around the dinner table and enjoyed this amazing feast prepared for us. I told them of the adventures we had with Captain John and we wished we never had to leave this beautiful place. If you get a chance, visit Costa Rica and Captain John. You won't be disappointed.