by Darcie Arahill, Contributing Writer
Daylight savings time is full effect this month so be sure to take advantage of the extra sunlight we have in the late afternoons!  We should have delightful springtime weather; winds will be blowing out of the East/South East the majority of the time. Offshore, when we have a persistent easterly wind blowing, the pelagics will be pushed closer to shore looking for bait stacking up along rips/edges. Trolling artificial and dead bait between 175-300' ft will produce dolphin, bonito, blackfin and the occasional wahoo. Bonitos and blackfins show up again in our waters this month. When targeting blackfins, you can troll small feathers and squid pups. TIP: Be sure to set your spread as far away from your boat as possible. Let the line out until you think it's far enough and then let the line out some more! Blackfins are spooked easily by the roar of your engine, so fish wisely. Blackfin also feed in lowlight conditions and love small live bait. Try chumming with cut sardines to bring these fish to your boat.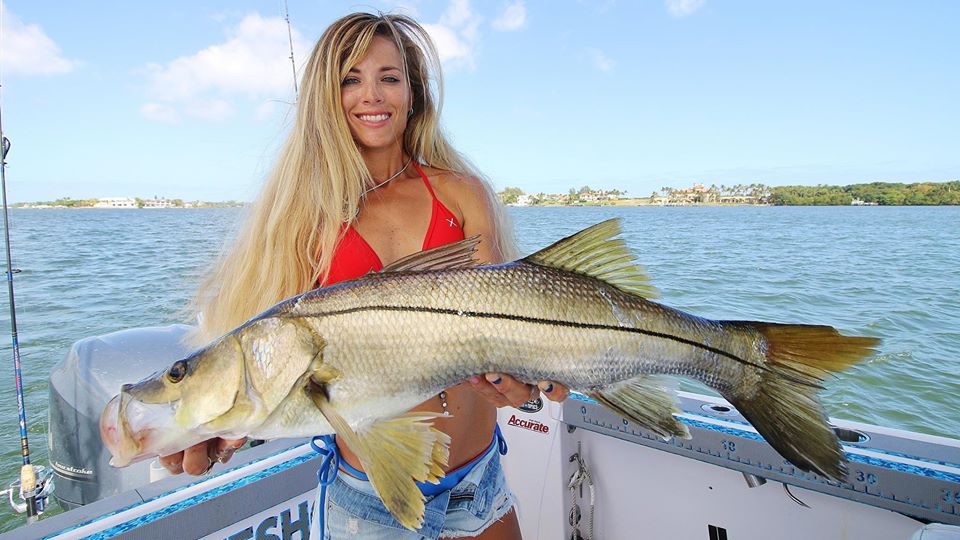 A lot of cobia should be caught this month as well, primarily in 90-150' of water. Cobia are hanging around the wrecks and following the sharks. Throw a chum bag out to bring hungry fish to your boat. Drift back dead sardines on triple hook rigs or a cobia jig. If you do get tight on a fish using this method, reel as fast as possible to keep your catch away from the sharks. When fishing the deep-water wrecks, jigging will produce big amberjacks, pompano, bonito and mutton snapper. The bottom fish also love to eat live bait such as runners and goggle eyes.
Inshore, this is the month to catch yourself a big snook! This time of year, snook will invade the bridges and inlets and will eat just about anything thrown at them. At night, fish the bridges with flair hawk jigs, large swimbaits or topwater lures. The live bait of choice this month will be mullet. Fish the bridges, inlets and seawalls at first light or at night during the beginning of the outgoing tide or the last of the incoming tide. Tarpon will be showing up around the Palm Beach inlet and mangrove areas feeding on crabs and shrimp. The best bait for targeting the silver king will be live shrimp, lip divers and jerk bait. Personally, I have caught a lot of snook the last couple weeks on Yozuri lip divers (Pink & Black/Gold Crystal minnows). I caught 4 slot snook plus countless over and under-slot snook!
Check out my YouTube Channel full of tips and tricks for both inshore AND offshore fishing!  www.youtube.com/DarcizzleOffshore