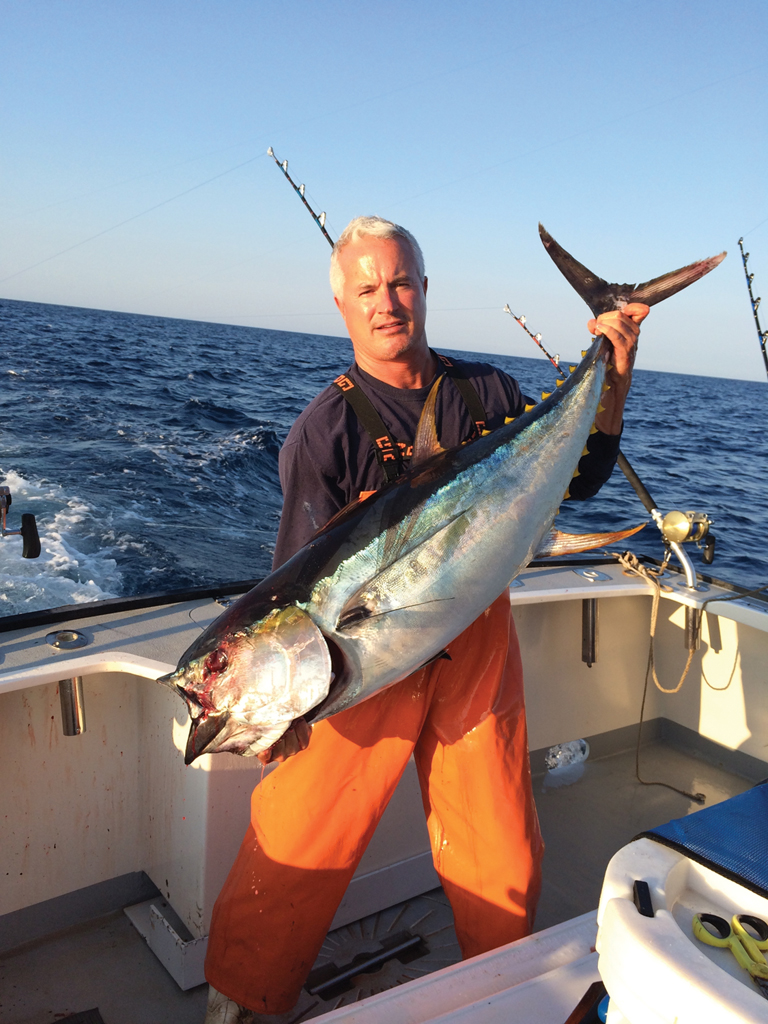 Spring is here, the wind has let up enough here and there to get offshore, and the offshore fish have been biting. Those who have made the trips have caught mainly blackfin and wahoo, but a few dolphin have shown up also. Additionally, there has been some billfish action reported. Fishing reports have been good from Little River to Charleston, thus far.
The dolphin migration should start up at any time, so now is the time to get out and go offshore. Chartering is a great way to fish as it is simple, and there are lots of charter boats from which to choose. Marlin Quay Marina, Georgetown Landing Marina, and Charleston have many charter boats available for an offshore trip. You book your trip, show up and fish, and then leave with no worry of maintaining a boat. In terms of ownership, BOAT is often referred to as "Break Out Another Thousand"; and according to the size of your boat, it could easily mean "Break Out Another Ten Thousand." These phrases are often true in the real lives of boat owners, but chartering a boat moves the responsibility away from you. Simply fish and walk off the dock. People who own offshore rigs know this all too well. On the flip side, there is no better feeling than owning your own rig, as you may come and go as you please.
To the north, offshore reports have seen some great catches of bluefin tuna caught this year at Oregon Inlet. Yellowfin Tuna are starting to show up also. Many boats, including the ones seen on Wicked Tuna, are available for charter.
Inshore, the fish are biting as well. Redfish, trout and black drum are the species that are caught most; however, sheepshead are being brought in also. The good news is that there are plenty of inshore charter boats from Little River to Charleston which can be booked.
The freshwater bite has been good, too. Bass, catfish and panfish are biting. So, now is the time to get out and catch some!
This time of year, there are many tournaments in which to fish. The SC Wahoo Series is coming to a close, but at the time of writing, there was a fish just slightly over 100 pounds leading. The Georgetown Meat Fish Slam, sponsored by Kid's Chance of South Carolina, is the weekend of April 27-29. The Carolina Slam, which takes place out of Marlin Quay Marina, is May 11. There are several ways to participate in these tournaments. You may choose to fish and compete, or you may choose to offer support by attending the weigh-ins. This is good clean family fun. All the marinas are stocked with great items such as refreshments, t-shirts, caps and visors, and lots more. Get out and be a part of this process.
Another great event is the upcoming 50th Annual Georgetown Blue Marlin Tournament (GTBMT) which will be held May 24-27. This will be my 22nd GTBMT, and I believe it is truly one of the best events on the East Coast. I have had the pleasure of weighing two blue marlin in this tournament over the years, and I am hopeful there will be a third soon. Jim Johnston has fished 49 of these tournaments, and this year will be his 50th on his boat Big Sky. Jim has won this event twice and was there with the late Wallace Pate when the tournament originated. Wallace was an avid offshore angler who left his mark on Jim, who caught last year's 2nd Place Calcutta fish on one of Wallace Pate's hand-crafted lures. This was a very proud day in Jim's life and is a perfect example of how to "Stay After 'Em," a saying coined by a buddy named David "Fog Radke" out of Oregon Inlet. No one stays after any harder than Jim Johnston! We all look forward to this year being a homecoming of all the people who have fished over the years. Good luck Jim on your 50th try. Please come out and support this event.
Lots of fishing to be done. Get out and get you some. Stay safe, tight lines, and God bless all!
John Hurst