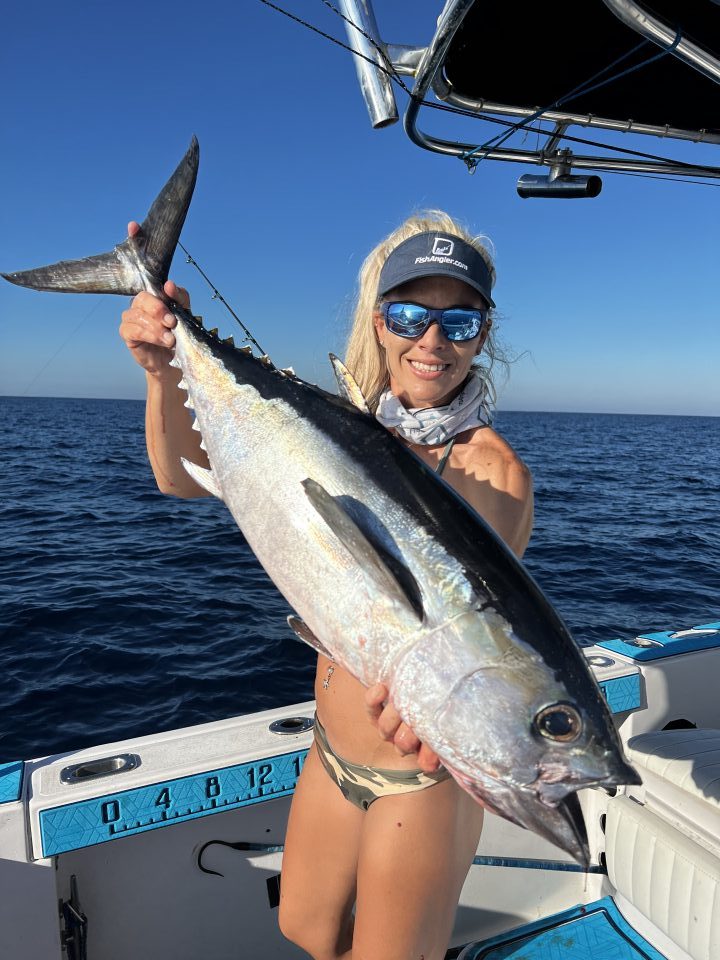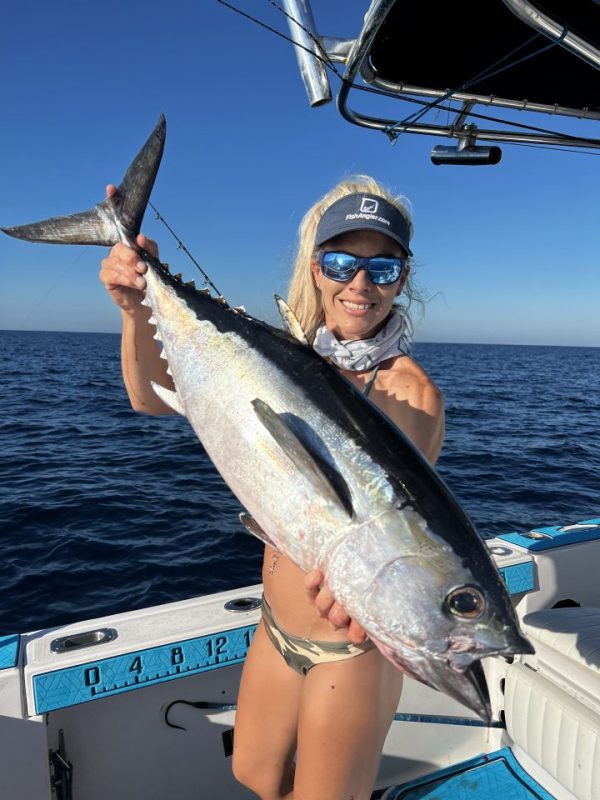 As we near the end of Florida's so called 'winter' months, fishing for sailfish is still in the spotlight throughout the month of February. As the month progresses the action should remain steady but will begin to fizzle out in Palm Beach as the sailfish continue their southerly migration. If you haven't already, try to get out and kite fish for sails after a passing cold front. It's not uncommon to hook two or more sailfish in a single fishing trip when kite fishing. Besides sailfish, there will also be a variety of pelagic fish visiting our waters that will gladly eat your kite baits. Be on the lookout for kingfish, dolphin, and wahoo swimming in your kite spread. I recommend using a small trace of wire on your leaders, so you increase your chances of catching toothy critters like kingfish and wahoo.
Anglers that like to fish from the beach and the waters near shore, the annual migration of spinner sharks should be commencing by the end of the month. These swift, fast growing sharks are exhilarating to catch. Spinner sharks are named for the spinning leaps they make when they rocket out of the water. When spinners are feeding on schools of fish, they will swim vertically through the school while spinning on their axis, erupting from the surface of the water. By boat, target spinner sharks by anchoring ahead of the school and use chum to lure them in. Live bait will work best; try mullet, blue runners, and goggle eyes. When you hook one, they jump quite a bit and the adrenaline rush you feel is like no other!
Bottom fishing should produce a good bite a couple days after a passing cold front. The deeper wrecks like the Skycliffe out of Boynton Inlet and the Ande out of Palm Beach Inlet should be holding almaco, amberjacks, and grouper. If you are drift fishing; I suggest starting your drift on the outside of the second reef in 75ft of water and drift in shallow to 40ft (depending on wind conditions of course). I suggest using a long leader at least 15ft long, a 3/0 – 6/0 circle hook based on the size of your bait, with just enough weight to hold bottom. Bottom fishing should yield muttons, kingfish, cobia, Spanish mackerel, bonito, trigger fish, etc. You will catch yellowtails, muttons, and mangroves closer to the reef itself. Say HELLO if you see me out on the water. Good luck & keep on catching!
Please be sure to check out my YouTube Channel "Darcizzle Offshore" for fishing videos every week!  www.youtube.com/DarcizzleOffshore