by Capt. Mike Manis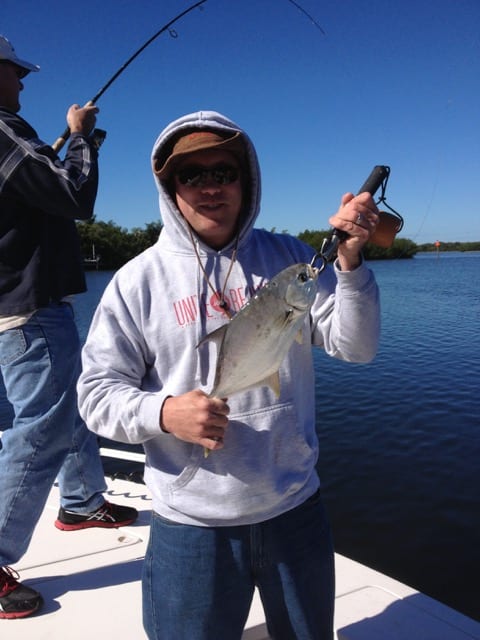 In the backcountry, where I spend most of my time, this month marks a true turning point where everything generally changes. The transition that began late last month will come full circle and cold fronts, strong winds and low tides dominate.  Shallow flats chill quickly under these conditions. I won't target snook as hopefully they'll be laying low up the many creek and river systems. Fortunately, redfish and spotted sea trout flourish in the cooler environment; so, that's where I'll concentrate my efforts. In fact, these two species are related as they're both part of the drum family. Because of the style I fish, fly and light tackle out of a small skiff, I'll spend all my time fishing sand holes that are scattered throughout my favorite flats. When the wind is coming out of the north pushing out water on an already low tide, redfish and trout will gang up within these spots. Too, many times it's the small sand holes that produce the best. By small, I'm referring to spots that are only a foot or two wide. Generally, the fish like to hold on the edge of the holes at the edge of the grass. I like small baits; for fly, small shrimp or baitfish patterns work well and I'll even throw an intermediate sink tip line. Understandably, this line gets my fly down and because it's a bit heavier, it helps punch the line into a stiff breeze. For spinning tackle, I like small plastic paddle tail and shrimp baits rigged on a standard 1/8 or ¼ ounce jig head.
Due to the wind, I try and keep my run time to a minimum so not to take too much of a beating. Fortunately, there are several good areas not far from a ramp. For the most part, I'll fish out of Ponce Park in Punta Gorda, the east side from Alligator Creek all the way down to Matlacha provides welcome lee shoreline protection from the persistent northeast wind.
Also, don't be surprised to hook into a few flounder working the sand holes. I've even caught them throwing a fly. Moreover, on milder days between fronts, there should be a good pompano bite on the hard bottom off Cape Haze Point.  Around the corner outside the bar along the West Wall is also a great place.  Keep an eye behind the boat and when a few skip your wake shut it down turn around a make a few casts, you never know.
Because of the sheepshead bite, this is one of the best times of year to fish from shore. The Placida and Boca Grande trestles are great spots to drop a fiddler crab or piece of shrimp. Stop by any of our local tackle shops and they'll set you up.
Until next month, good tides.
Captain Michael Manis is a U.S.G.C. Licensed captain and has been teaching the sport of fly and light tackle angling since 2002. He lives in Punta Gorda, Florida and can be reached at www.puntagordaflycharters.com.