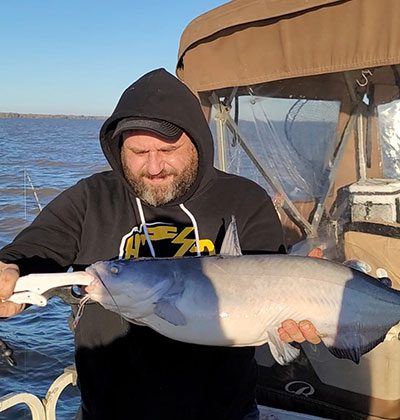 By Gary Turner
At 28 years old, my friend Danny had the first fish of his life on the line! These are the moments I love sharing with my friends. I've taught a lot of kids how to fish, and I've seen their happy faces when they catch that first fish. Seeing one of your friends who has never caught a fish growing up about to land a nice fish, is what it's all about. I have probably said this before, but I'll say it again; you will reach a stage in your fishing life when it is almost as satisfying to see your friends catch fish as it is for you to reel them in yourself.
My friend Matt and I were looking forward to our trip down the Toccoa River with Guide Joe Dipetro, but the weather had other plans and we had to reschedule. I also had a couple of trips lined up to go to Santee, and the weather wasn't looking great for those either, but Capt. Dewayne has a cover over part of his pontoon that we hide in sometimes while waiting on the bites, so fish on! Stacy, Danny, Rafi and myself were planning on two days of fishing Lake Marion with Capt. Dewayne, but, as luck has it sometimes, Danny and Rafi had some work they had to finish up on Wednesday and Thursday and said they would come catch up with us Thursday night. Thursday night came and they were not there, so I called them. They were finishing up one more job. At 10 minutes after 3:00 in the morning, they came rolling in. I welcomed them to the place we had rented, showed them the 3:00 a.m. tour and their accommodations, and I hit the hay. We were meeting Capt. Dewayne at 8:00 a.m., so Stacy and I headed to Loves at 7ish for some snacks, drinks, and my breakfast of champions: Two jalapeno cheddar dogs! Danny and Ravi rolled out to grab some McDonalds. We finished up and headed for the dock.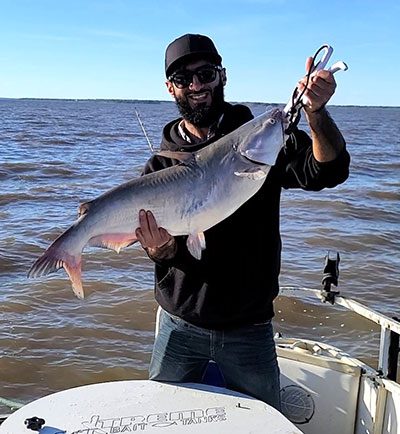 When we got there, Dewayne was unloaded and waiting for us. We all boarded his pontoon and took off out of Goat Island in search of Catfish, Blue, Flathead, Channel, we didn't care. I just wanted to see these guys reeling some in! The day before when me, Stacy, and Capt. Dewayne were fishing, we caught a bunch of nice fish including a 38-pound Blue Stacy pulled in. We knew a front was coming but had high hopes that Friday would be as good as Thursday, or better. Well, as most of us that fish much know, those fronts can be brutal on the fishing, and that was the case this time. We marked fish all over, but they were like little kids at the dentist, those mouths were shut real tight! The wind was blowing and it was cold, but we didn't care, we just wanted bites. As the day went along, we started picking up a few fish. Rafi got the first fish, then Danny hooked up on his. This was the first fish he had ever caught! He had been fishing before but never caught anything. It was so awesome to see him reeling in that first fish! Rafi and Danny both reeled in several nice blue cats that afternoon. Now they are both Hooked! After we finished fishing, we went to the Lake House in Summerton for dinner and then Danny and Rafi said they were gonna pack up and head home so they could work the next morning. They are half my age, but I can still remember the days I could do that! Dewayne wanted Stacy and me to go check out some swamp with him the next morning, so we did. At the landing, there was a curious little bait shop that had a sign that read "Knock Please". When the little old man, 82, opened the door, he welcomed us into his neat bait-taxidermy shop…that's a story for another time. Just let me say that was a very neat experience!
You can get more information on fishing with Capt. Dewayne Profitt by calling him at 740-404-3900 or 803-478-6479. His website is TakinitEasyGuideService.com
Get with some of your friends and take a fishing trip. Whether with a guide or just on your own, GO FISHING!
I'm not sure what next month's article will be on but remember, if you have an empty seat on your boat that needs filling, shoot me an email and maybe it will be about fishing with you!
If you want to see Danny's first catch or other videos I have recorded, check out my YouTube channel here https://youtube.com/@FishingWithGary. You can aso reach me at gary@purgeright.com.
Please remember, if you are not going to eat it, don't kill it. "Tight Lines and Squeal every time." Gary Turner
You can reach Gary Turner at gary@purgeright.com.