By Captain Skeet Warren • "Bushwacker Sportfishing"
September and October will bring some very good fishing to northern Costa Rica, although we will probably not have many clients due to the return of the kids to their schools. The school years in the United States seem to get longer and longer every year, so the summers get shorter and shorter for them. Therefore, our summers get more compact and busier for a shorter period of time.
There will be plenty of marlin, sailfish, tuna, and probably mahi, out there to catch during the months of September and October. Inshore there should be roosterfish, cuberas, wahoo, and small yellowfin tuna around the islands. This is my favorite time of the year. The fishing is usually more consistent than any other time of the year.
As of this writing the fishing is good. We are seeing 1-3 blue marlin a day with a few sailfish thrown in. We are catching some tuna anywhere between 15# – 200#, a wide range. We can definitely see that the new Costa Rican laws keeping the commercial boats out working. Inshore we are catching small yellowfin tuna, small wahoo, roosterfish, a few Cubera snapper and bonitos to bend the rods for the kids.
The seas will be fairly calm since the winds don't start until November. You should give us a call or send me an email and book a trip now to take advantage of the calm seas, cool weather and abundance of fish this time of the year.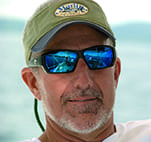 Captain Skeet Warren owns and operates the Bushwacker, a 42' Bertram out of Flamingo, Costa Rica. After graduating from the University of Southern Mississippi in 1980 he captained boats, fishing extensively, including Hawaii, the Caribbean, Central and South America, Australia, New Zealand, Madeira and Bermuda. He won the 2013 Top Tagging Captain in the Pacific Ocean for Sailfish. Some other notable catches include 13 blue and black marlin over 1000 lbs., 51 giant bluefin tuna in one day and 53 sailfish in one day.   Contact Skeet at captskeet@bushwackercr.com or visit www.bushwackerCR.com