By Captain Skeet Warren • "Bushwacker Sportfishing"
January and February should bring some really good marlin fishing to the northwestern part of Costa Rica. By now the rainy season is over and the Papagayo winds are pretty much on their normal patterns. They blow hard to the north of us but since we are right on the edge we can run south, where the deep water comes in close to the beach and we are protected by the tall mountains.
Our runs vary depending on how hard the winds are blowing, but we can almost always get out of them. If anyone tends to get sea sick you can get Transderm Scop patches from your doctor http://www.transdermscop.com/.
Our winter marlin bite consist of blue marlin, striped marlin and black marlin making it a great time of the year to catch a Grand Slam (3 billfish species in one day). Sailfish are almost always prevalent. The mahi and tuna should be biting as well. Inshore should be decent for roosterfish and snapper, depending on how hard the wind blows and how dirty the water gets.
Our November/December offshore fishing has been good with tons of mahi, some tuna, marlin and sails. I expect the billfish bite to pick up soon. Inshore there have been some roosterfish, snapper and lots of mahi and bonito.
I expect the inshore fishing to get better soon also. As the high season gets going there will be more boats out fishing which will help everyone. Be sure to book a well maintained boat with an experienced captain during this time of the year because the Papagayo winds can be dangerous if they are not respected, the boat is not maintained and/or the captain is not experienced with them.
Come enjoy the great marlin fishing and get out of the cold weather in the US.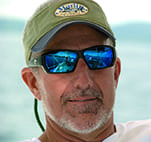 Captain Skeet Warren owns and operates the Bushwacker, a 42' Bertram out of Flamingo, Costa Rica. After graduating from the University of Southern Mississippi in 1980 he captained boats, fishing extensively, including Hawaii, the Caribbean, Central and South America, Australia, New Zealand, Madeira and Bermuda. He won the 2013 Top Tagging Captain in the Pacific Ocean for Sailfish. Some other notable catches include 13 blue and black marlin over 1000 lbs., 51 giant bluefin tuna in one day and 53 sailfish in one day.   Contact Skeet at captskeet@bushwackercr.com or visit www.bushwackerCR.com