By Captain Skeet Warren • "Bushwacker Sportfishing"
November and December should be the start of some good marlin fishing in the northwestern part of Costa Rica. November is a great month in the Guanacaste area.
The Papagayo winds are not blowing yet and everything is still green because the rainy season is getting over with. It is a transition month so the fishing can be hit or miss. December starts to settle into the dry season where the winds start blowing a little more and the fishing gets a little more consistent. The best day that I have ever had on blue marlin in Costa Rica was during the month of December.
To avoid the winds we just have to fish a little farther south, where the deep water comes in close to Punta Guiones and the tall mountains block the offshore winds. I always recommend that my clients book their fishing date as early in their vacation as possible so that in the event of high winds, we can push it back in hopes of better weather. I also recommend Transderm Scop patches and have never seen anyone get sick when they were used as instructed.
We should expect to see mostly blue marlin, with some striped marlin, an occasional black marlin and the ever present sailfish. The wahoo bite always picks up in the winter and we have been consistently catching more tuna since the ban on the purse seine boats was implemented. The mahi have been around for a long time so I would expect that they should be here November-December also. The roosterfish and snapper bite should be steady inshore as well as jack crevalle, rainbow runners, bonitos and houndfish for the kids.
You might want to book a bigger boat this time of year because of the weather but get on Google and do your homework and get out fishing because it should be good.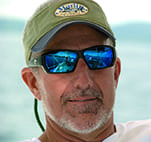 Captain Skeet Warren owns and operates the Bushwacker, a 42' Bertram out of Flamingo, Costa Rica. After graduating from the University of Southern Mississippi in 1980 he captained boats, fishing extensively, including Hawaii, the Caribbean, Central and South America, Australia, New Zealand, Madeira and Bermuda. He won the 2013 Top Tagging Captain in the Pacific Ocean for Sailfish. Some other notable catches include 13 blue and black marlin over 1000 lbs., 51 giant bluefin tuna in one day and 53 sailfish in one day.   Contact Skeet at captskeet@bushwackercr.com or visit www.bushwackerCR.com