By Captain Skeet Warren • "Bushwacker Sportfishing"
February and March will bring on more marlin and sailfish, as the fishing should peak for our dry season. The clean water has pushed north and the  marlin have shown up as always this time of the year. We are seeing mostly blue marlin with some striped marlin thrown in.
The sailfish are more scarce than usual, but they are starting to show up in bigger numbers. Conditions are improving daily with catch reports improving also.
The tuna fishing should be good in the spinner dolphin schools. The dorado (mahi) fishing has been pretty consistent for quite a while so I would expect it to stay that way. No wahoo reports as of this writing, but they should be here by January and the bite should continue through the spring.
The wind has had the water stirred up inshore so the inshore fishing has been slow, but with the clean water pushing north, the inshore fishing should improve quickly. We have been finding the wind line to the south, where we can fish in much calmer water all day long and make for some enjoyable fishing for everyone.
February and March are a great time in the Flamingo area to catch a Grand Slam, which are 3 billfish species on the same day. Come charter a boat and see if you can't be one of the few people that have ever accomplished this rare feat!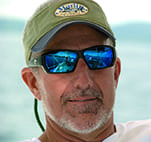 Captain Skeet Warren owns and operates the Bushwacker, a 42' Bertram out of Flamingo, Costa Rica. After graduating from the University of Southern Mississippi in 1980 he captained boats, fishing extensively, including Hawaii, the Caribbean, Central and South America, Australia, New Zealand, Madeira and Bermuda. He won the 2013 Top Tagging Captain in the Pacific Ocean for Sailfish. Some other notable catches include 13 blue and black marlin over 1000 lbs., 51 giant bluefin tuna in one day and 53 sailfish in one day. Contact Skeet at captskeet@bushwackercr.com or visit www.bushwackerCR.com