By Conway Bowman
The Venturing Fly Angler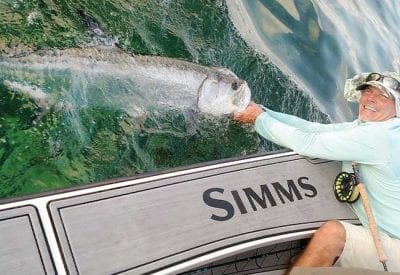 Saltwater fly fishing can take you to places off the beaten path. Whether you're inclined to travel far or stick closer to home, traveling with a fly rod packed in your luggage can be a great adventure.
Here are some of my favorites.
Keys Tarpon
I love the Florida Keys! There are things that get me more stoked than the thought of sight fishing a fly to a cruising tarpon, in shallow water over a white sand flat! The fishing areas in the Keys are endless. If I were to pick one spot that gives the angler the best opportunity to hook a tarpon of a lifetime on the fly, it would be Bahia Honda. From April through June, you have shots at tarpon of all sizes, fishing over white sand flats just a few hundred feet off the shore. If you're lucky enough and your timing is right, you might experience the legendary palolo worm hatch. There is nothing more exhilarating in saltwater fly fishing than having the opportunity to target tarpon during this annual springtime event in the Keys. The sight of very large tarpon lazily slurping these tiny red worms off the surface will give any angler buck fever!
Texas Coast (South Padre Island)
If you're looking for a great fly-fishing/camping adventure, then South Padre Island on the Texas Gulf coast is about as good as it gets! The dune-lined beach runs more than 30 miles east of the coastal town of South Padre. You'll find great camping among the sand dunes and excellent fly fishing for redfish, jacks and sharks. Also, if the wind lays down and you get a day of glassy water conditions, there is a good chance of hooking a few rolling tarpon from the beach!
Baja (Los Cabos and Beyond)
Baja's East Cape is a far-out adventure where West Coast saltwater fly fishing got its start more than 50 years ago. Baja is rugged and wild, where the blazing hot, cactus-filled desert meets the deep blue waters of the Sea of Cortez. Los Cabos is your starting point. Drive north along the beaches to Los Barrilles, also known as the East Cape, and you find some the best roosterfish fly fishing in the world. This area is a sight fisherman's dream, where roosterfish run along the beach in ultra-shallow clear water, looking for sardines and mullet to eat. The best approach for the fly angler is to stake out in a bait-filled area and wait for the roosters to swim within casting range. Be aware! Roosterfish are one of the toughest game fish to catch on the fly, but once you entice the pes gallo to take the fly you'll return year after year to pursue these great and unique gamefish.
So, get out and go! Venture off the beaten path and explore waters close to home or far way. But make sure you pack your fly rod!