By Mark Evans
We might as well start right off with the trout fishing scene. With wet season in full swing the trout fishing couldn't be better! Water levels and clarity have remained excellent and 40 fish released per day have been the norm for those nymphing. Dry flies will still get you fish but in less numbers than your nymphs.
Sticking with numbers, Machaca's come in a close second . . . not always for releases but for the insane amount of top water attacks! This toothy prehistoric "piranha like" beast is just not as easy to get to commit to the take! They will slap, tickle and smack the BLEEEP out of your popper but hook ups do require some hook setting skill on the anglers part! When you are hooked up with the Machaca it is hard to find a fish that will fight as hard for its size! The aerobatics are also there, giving the angler a total fishing experience!
We have been putting clients on good fish, with the rivers filling in from the rains, and more Machaca moving upstream.
Saltwater action has been good as well, with Jesse of 506Outdoors hooking up yellowfin, big eye jack and some small dorado recently.
Tarpon on the east coast are still being reported when the waves cooperate, and we are looking for more, up river and in the lagoons, with higher water on the way.
As you know, the best way to catch fish is get out on the water!
Keep it tight! Mark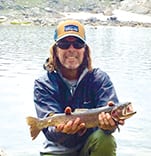 Having graduated from cane pole fishing as a kid to more technical equipment these days, Mark Evans prefers floating the many rivers of Costa Rica in his kayak, with a fly rod in hand. Mark is one of the founding members of the Costa Rica Association of Fly Fishers (CRAFF) and two-time national fly fishing champion in the Club Amateur de Pesca of Costa Rica (CAP)