By Mark Evans
Summer time fly-fishing has started with a bang in Costa Rica, from blue water to the mountain streams.
Justin from Caribsea Sportfishing out of Quepos hooked and released a beautiful striped marlin on our run out to the fads and raised eight more. We had two more hooked and missed our chances. Gotta do it again!
More reports and photos from the Quepos area of big schools of Roosters inshore, so get out there!
Further North in Guanacaste Capt'n Jesse Males of Backwater Fly Fishing and the gang were slamming the yellowfin tunas and roosterfish from kayaks. Countless yellowfins on two separate trips and three beautiful roosters were brought in for photos! Big streamers were the order of the day!
As we move inland to the Rio Sarapiqui, Wilmer of Sarapiqui Fishing has been having some epic days fishing Machaca. Days of fifteen plus fish have been caught and released on the float trips and Javier from Stone Mountain Outdoors landed several fish from his kayak on a tough day with high water conditions.
Back to the mountains in San Gerardo de Dota, fly fishing addict Paul Fandre had an epic weekend releasing more than 40 Tico Trout. Prince Nymphs and the Pass Lake 14's were his flies of choice and they proved to be spot on!
As we progress in to the summer season expect the fly-fishing opportunities to continue improving. Great opportunities will be awaiting the fly angler from shore with more bait arriving. Tie it on!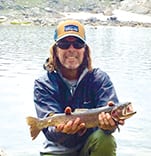 Having graduated from cane pole fishing as a kid to more technical equipment these days, Mark Evans prefers floating the many rivers of Costa Rica in his kayak, with a fly rod in hand. Mark is one of the founding members of the Costa Rica Association of Fly Fishers (CRAFF) and two-time national fly fishing champion in the Club Amateur de Pesca of Costa Rica (CAP)