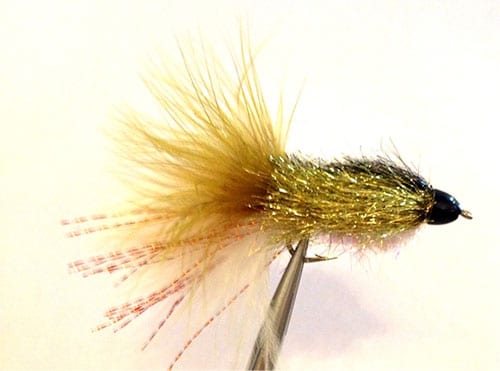 By Jake Darling
Unicoi Outfitters, jake@unicoioutfitters.com
Coffey's CH Sparkle Minnow – Sculpin
Hook: Umpqua U301, #06
Cone Head: Size Large Black Cone (6mm)
Underbody: 10-15 wraps of .020 lead wire
Tail: Combination of White, Tan, and Olive Marabou (white on bottom, tan in the middle, olive on the top). Also, add a few strands of copper colored Krystal Flash.
Body: Two colors of wing-n-flash (angel hair) – gold on top and pearl on bottom.
When finished, use a black magic marker for coloration of the back.
As we transition into cooler weather, I often find my streamer rod in my hand more than any other time during the year. Streamer fishing can be fantastic as the water temperatures begin to decrease and the trout become more active. Out of all the streamer patterns I use, the Coffey's CH Sparkle Minnow in Sculpin color produces more strikes than any other. I prefer to fish this fly on a 250 grain Scientific Anglers Streamer Express line, while stripping the fly erratically to entice the strike. This fly can also be used with a swing presentation while imparting a rhythmic jigging action with the tip of the rod whenever trout may be looking for a slower moving offering.