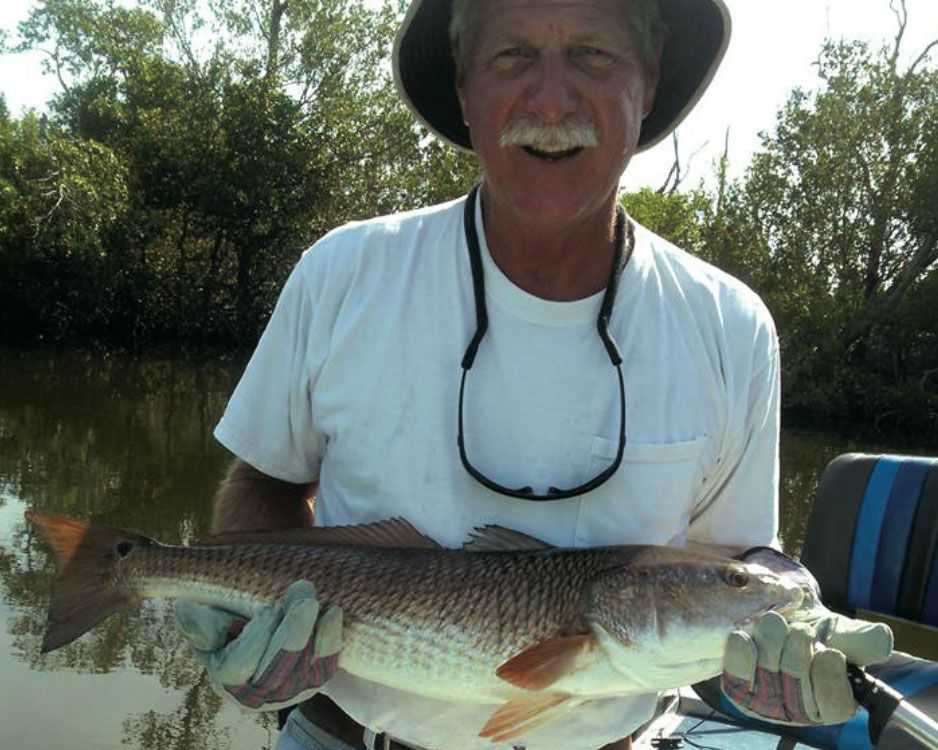 August storms and hot weather go hand in hand. The thing is this year the Redfish are just plain wacky. Normally by August the Reds are out towards the Gulf or at least hanging out in deeper cooler waters. This year the Reds have moved into the canals. What is strange about this is that the water in the canals is fresh and hot. As you know hot water does not hold oxygen, and the fresh water comes with the brown of Tannin acid. Tannin acid is not like the acid in your car battery, it's a byproduct of decaying leaves and vegetation which turns the water the color of tea or coffee. Though the water isn't dirty, the dark color does allow for greater adsorption of sunlight which in turn makes the water hotter. It's not uncommon to see backwater canals with water temperatures in the 100-degree range during the day and if you been in 100-degree heat, you don't feel like doing much or eating much for that matter. The same is true with the fish.
So why have the Reds come into this type of water this year instead of being in the clear cooler water of the flats? I have no idea, I wish I did. But the Reds are back in the canals and eating cut bait, chopped pieces of Ladyfish, shrimp tails, yes dead shrimp is working better than live ones, and Pinfish cut in half. The dead bait stinks more than live bait and is easier to catch since dead things don't move as fast as live things. The key thing is that the Reds are hanging in the shade, so you'll find some great Redfish action under the boats and docks.
SPANISH MACKEREL ARE THICK OUT BY THE STRAIGHTS. AN EASY PLACE TO FIND THEM IS AT THE CAPE HAZE REEF.
Spanish Mackerel are thick out by the straights. An easy place to find them is at the Cape Haze Reef. If you can find white bait or the small got-cha lures that will work. Even silver spoons in the 1⁄4 ounce or 1⁄2 ounce sizes do well. As far as a lure, I would stay with the Storm Twitch Stik in white with a gray back which has been very productive. Reel in the lure with a medium to fast retrieve. Spanish Macs are one fish where whether the water is hot or not, they like it fast moving. I love eating Spanish Mackerel though there is a trick to it, eat them the same day you catch them. They lose a lot of flavor after freezing or just sitting in the fridge. Fillet them and take extra special care to get all of the bones out, the ones by the belly are really tricky to find. I close my eyes and run my fingers lightly up and down the fillet to feel any bones which might be left in the meat. Then wash and dry them, put a light coat of butter on one side, lightly sprinkle with Lemon & Herb seasoning, I like the McCormick brand I get at Public's for this, and place buttered side down on the grill. Then wait about 3 to 5 minutes depending and your heat and the thickness of the fillet. Then butter the other side, season, and flip. Browned on both sides and they are done. Wonderful eats. I figure three mackerel for two people. You know you'll have hush puppies and cole slaw with your fish, so 1 1⁄2 per person is about right. If you freeze them or try to keep them for later you'll think I'm crazy for saying how good they are. Fresh caught is wow, stale not so much. So keep what you need for dinner that night and let the rest go.
Here at Fishin Franks we went to ICAST, the national Sport Fishin show in Orlando. After the first day of walking up and down row after row of fishing tackle, we didn't even get half way through it. Some cool new stuff from Savage Lures. We're going to try the 18 inch Trout meant for Musky fishing on Tarpon this year, or maybe even Goliath Grouper at the phosphate dock. I'm hoping to just let it hang in the current and let the tide make it swim. That should make the fish crazy down there watching it.
Lew's Reels is another line we picked up and maybe Ducket Rods. We have pretty much every other brand as it is. The Lunkerhunt frogs are cool and we have those coming in. Same for just about every Bubba Blade they make. We also got some great old-fashion carbon steel knifes. I could rattle-on about all of it but as the lures and tackle come in, I'll post how they work, the good and the bad. I'm on the fence about the new Penn Clash spinning reel. I know it will work and all that, but the big question is not is it a good reel, but is it worth spending $50.00 more for it, or should you just buy a Battle or Conflict? I think the coolest thing I saw was a take apart crab lure made in Australia, but they will not be here until maybe December.
For now that is about it, have a good safe month. Watch for storms which will try to get between you and the dock. Don't let them do it. Have fun and catch some fish.