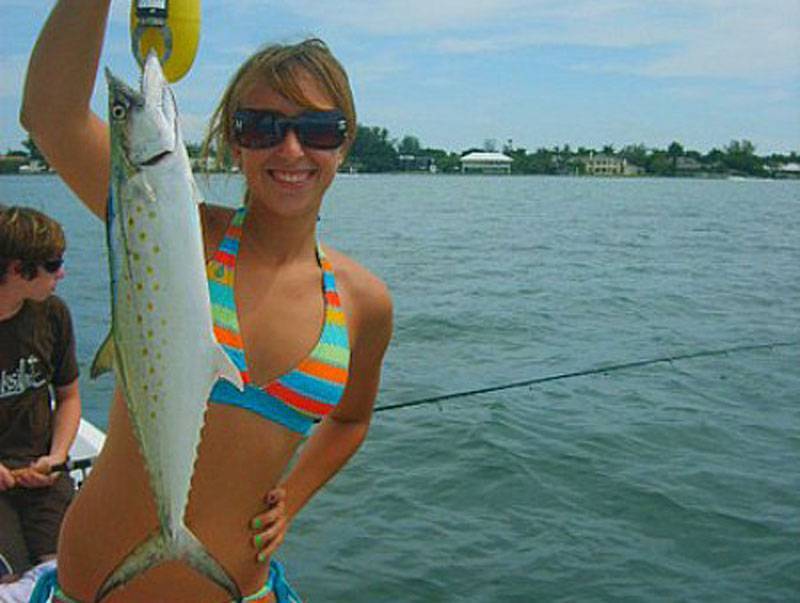 What if the air changed color? I know it's a strange way to start an article, but think about it for a minute. If one day you walked out your front door and the air was a dark brown dust color, you would notice some colors much more than others. Then the following week the dust was a bit less, a whole new set of colors would appear sharper to you. Then finally when the air cleared you would see everything crystal clear and in their natural bright colors. This is what happens to fish in their world when the water becomes dark, murky, lightly stained or clear. I was thinking about this watching the news where in Australia the sky turned red one day. A dust cloud covered the city of Sidney and the people reported it was hard to see and drive. So I thought hey, that's what happens to fish during the course of the year and it helps explain why color selection can be so important when choosing a lure. The old trick of matching dark water with dark colored lures still holds true, though there are a couple of exceptions most notably white. White will work in dark water or clear water. But let's take a look at dark water. We know shadows are important for fish to see and a light colored lure in dark water would have little presence. But a black or dark brown lure would show up more by providing greater contrast with the water color. In light colored water a baitfish's color tends to fade out so they are less noticeable to predators so they appear as light colors. So silver lures are better in clear water, whereas gold colors contrast more in dark water. Anyways, understanding how fish perceive their world under water helps us understand how to pick lures to entice them to bite. 

Let's talk about where some fish are. They're right in the middle of the Harbor! I would say the best place to look this month is in-between Alligator Creek and the reef, just bunches hanging out there.
Spanish mackerel, those bright and shiny tasty fish are filling up the Harbor. Now I say tasty but I mean fresh and tasty, if you freeze them they get the consistency of mashed potatoes in my opinion. So if I'm feeding two people I keep three mackerel which is more than enough for a meal. To get that meal I run the boat about 15 to 20 mph, which is slow enough to see but just fast enough to stay on plane. I watch for birds working the surface of the water or for bait, the bait I'm looking for looks like light rain falling on the water. Once I see a good indication of fish, I stop and put out two rods for trolling, one with a Storm Twitch Stick in Ghost Color and on the other rod a Rat-L-Trap ½ oz. in any color but I seem to do better with ones that have orange on them. Then I start out at 2 mph to get my lures working and then I speed up to 3 to 3.5 mph and watch my rods. The rods should have a nice bend to them as I am using 7 foot medium heavy spinning tackle with 15 pound test braid and 30 pound Fluorocarbon leader. Once a rod is hit "Fish on," I stop the boat and start casting as soon as I land the first mackerel. Now that I have found them I just cast the same lures I was trolling with at the fish. A helpful tip, have another rod or two rigged up with a cheap spoon on it so when you lose one of the lures to those lure stealing Spanish Macks, you'll have another ready to go. Once I have my three keepers it is all about catch and release. I have a Storm Twitch Stick with the barbs flatten down on the treble hooks, this make it easy to release the fish and if I get stuck no big deal, easy in – easy out of my fingers that is.
Spanish Mackerel are easy and quick to cook if you have a grill. I fillet the mackerel watching for bones on the belly meat which are tricky little buggers to get out. Rub the fillets with your finger to feel for the ones you can't see. Then I use olive oil, margarine and lemon herb seasoning. I butter one side of the fillet and sprinkle the lemon herb on lightly. Place that side down on the grill and it only takes a few minutes for it to brown. Then I butter the top side a little and sprinkle a little more lemon herb seasoning, then flip it until brown on both sides and you're done. It ends up good, real good. Well good luck, have fun and only keep the mackerel you are going to eat that day, they're lousy frozen, but wonderful fresh caught and cooked.