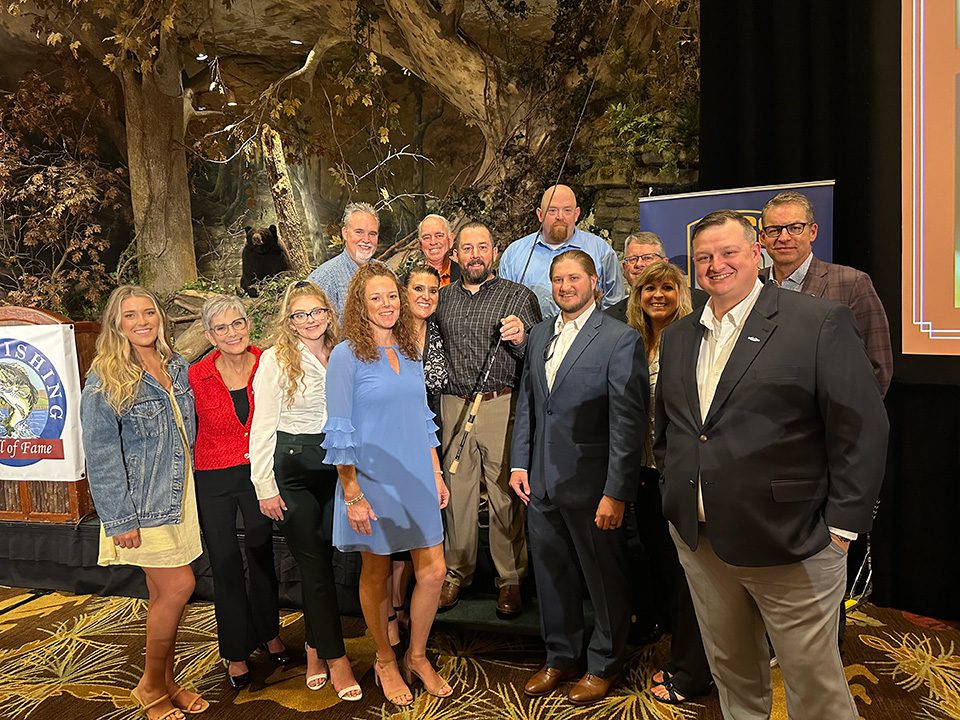 Oviedo, FL, October 5, 2023 – The September 28th, 2023 Bass Fishing Hall of Fame Induction Ceremony included some additional hardware for this year's inductees. Awarded by Foundation Outdoor Group, esteemed honorees Glen Andrews, Bruce Holt, and Michael Iaconelli each received a one-of-a-kind,meticulously handcrafted, custom fishing rod to commemorate their lifetime achievements. Foundation's own Sr. Account Specialist and professional rod builder Alex Funke designed and built each fishing rod specifically for the occasion.
"The rod designs embody the spirit and passion of Mr. Andrews, Mr. Holt, and Mr. Iaconelli as well as the meaning of this monumental occasion," said Alex Funke. "As an avid bass angler, I have a true appreciation for what these men have brought to bass fishing and to our industry. It was an honor to pay homage to their remarkable achievements and to be part of the evening's festivities in some, small way."
The Bass Fishing Hall of Fame has long been regarded as the premier institution honoring individuals who have revolutionized the sport of bass fishing. Through its commitment to recognizing industry pioneers, superstars, and leaders, the Hall of Fame plays a vital role in preserving and sharing the rich history of bassfishing with the world. In addition to the three rods given to the inductees, Mr. Funke also crafted a fourth rod that was donated to the Hall of Fame's online auction, helping to generate funds to support this important, not-for-profit organization.
"Foundation Outdoor Group is excited to support this year's honorees and the Bass Fishing Hall of Fame's commitment to the history and growth of a sport we all love," said Brook Oliva, Foundation's President andCOO. "Not only was this an exciting project for our team, but it also shined a light on the craft of custom rod building and the amazing work that Alex does."
As an organization dedicated to promoting outdoor activities and fostering a love for fishing, Foundation Outdoor Group stands alongside the Hall of Fame in its mission to celebrate the achievements of exceptional anglers, foster innovation, and inspire future generations of fishing enthusiasts.
Induction Ceremony Includes Presentation of Custom Rods to 2023 Honorees