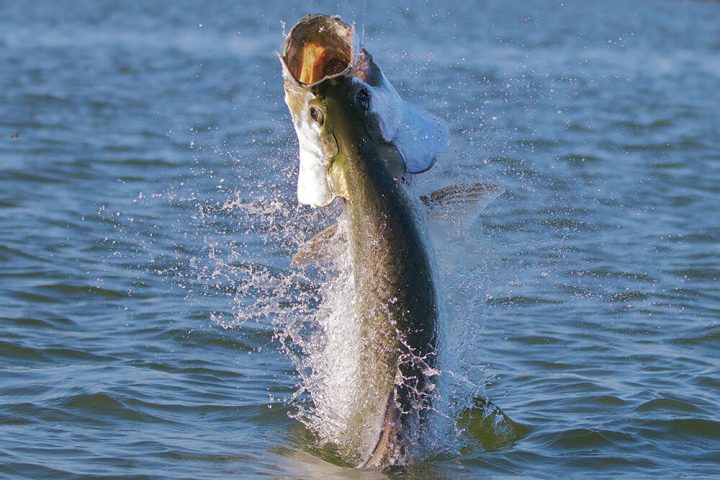 The areas of the Forgotten Coast in Franklin County, Florida, might not be your first thought when planning your quest to bag a silver king, but you really should consider it for your next fishing destination. Franklin County is not only home to beautiful, historical areas that take you back in time, the fishing is also second to none.
Typically, May through August is the best time to find these migrating monsters as they come north for the summer, but given the warm conditions this year it might be sooner.
Tarpon are not always an easy fish to catch, but if you hire one of the many seasoned guides that understand their habits, it increases your odds of landing one exponentially. Capt. Jordan Todd, of Saltwater Obsessions (www.facebook.com/SWOfishing), understands these fish extremely well, and regularly cracks the code to get them on the end of his client's line. Having a keen understanding of the migration pattern and feeding habits, he can put you in the right place at the right time to do battle.
If you bring your own boat to chase tarpon, you can count on them making an appearance around the mouth of the Apalachicola River, Ballast Cove, Dog Island, Mud Point and Alligator Point. Live bait, like threadfin herring, pilchards or pinfish are always a good bet. Try live mullet or jigs tipped with shrimp near the mouth of the Carrabelle River. They'll often be chasing mullet up and down the lower portion of the rivers and into the bays. Live mullet free-lined is a good bet when you've located actively feeding fish. You'll know they're active when they're crashing on bait balls; mullet learn to fly and the commotion is intense!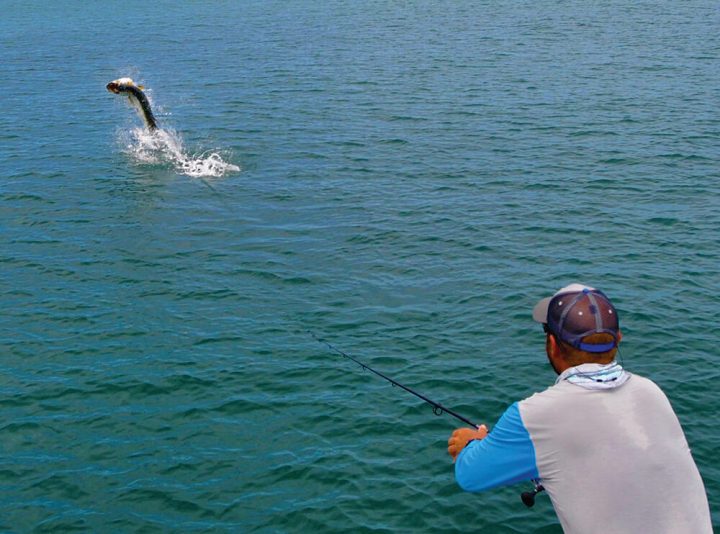 Techniques vary from casting and drifting live bait to sight fishing with a fly rod, but one thing is constant: these are big tarpon that migrate to this area! You won't be chasing juveniles; they will usually be in the 70- to 100-pound class, so gear up accordingly.
Spinning gear is always a good bet for presenting live bait. A 7' med-heavy action rod with an 8000- to 12000-series reel will do the trick. Fly fishermen should consider a 12-weight rod and a comparably matched reel with a quality drag system. These fish will test your equipment!
Speaking of equipment, Apalachicola now features a fly fishing shop. The Forgotten Coast Fly Company, located in the historic downtown district, is a technical fly shop that provides the fly fishing community with fly tying material and tools as well as American-made rods, reels, line and merchandise.
Your Franklin County tarpon quest awaits you along Florida's forgotten coast. To hook up with one of Franklin County's tarpon guides, visit www.floridasforgottencoast.com/ca.