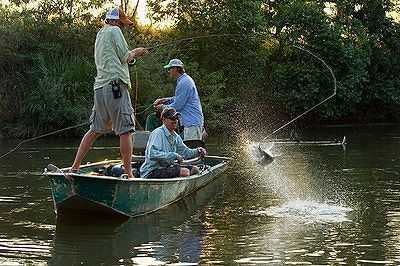 If we all had a wish list for freshwater fishing, it would be for the thinnest lines with the maximum strength and the ultimate abrasion resistance coupled with incredible knot strength. That combo is impossible of course, but the manufacturers keep inching their way towards this ultimate if impossible goal.
We still have the main basic lines for fishing which includes monos of various types, fluorocarbon lines, the gel spun lines and the coated gel spun lines that seem to prove better with spinning tackle than the plain old braids. If there is any big change is seems to have happened incrementally over time with the fluorocarbon lines.  Initially, these were thicker than mono of the same pound test, slightly less visible, and with poor knot strength.
Fluorocarbons have improved, with better knot strength and overall improvement in all important categories, but are still the high priced spread in fishing line. Knot strength has also improved so today you can use most standard fishing knots with fluorocarbon line with the best lubricant now for pulling the knot tight being a touch of one of the lip balms such as ChapStick.
Fluorocarbon is still expensive, so it is best saved for those fishing situations where its advantages are necessary in getting an edge on the fish. When I do use fluorocarbon, I usually use it as a leader of six or eight feet or at most a length that is about 1-1/2 cast lengths tied to the basic mono on the reel. That cuts the cost and still gives me the real or perceived advantages of this specialty line.
Daiwa Samurai braided line has some advantages for trolling in the multi-color type that changes color every ten yards. It also helps to use such lines for deep jigging, so that you can reach the bottom, know when you are going to reach the bottom, and have the sensitivity to detect strikes. It is also slightly thinner than other braids on the market, so it has an advantage there also in spool capacity, water resistance and visibility. Any braid is going to be thinner than an equivalent pound test mono, and with minimum stretch, is the best choice for jigging or trolling.
Mono lines still are made in a variety of iterations in which specific lines have advantages for cold weather, warm weather, knot strength, abrasion resistance, etc. These still seem to be the best choice for most freshwater fishing, since the necessity of specialty lines is minimal in most waters. The standard mono has the advantage of flexibility, limpness, knot strength, abrasion resistance, reasonable cost, color choices, spool sizes and such that make it often the only line you need for almost all freshwater fishing. The only important thing is to always buy premium line, and to change it or add to it when necessary, or every season or two.
Remember that fishing, reduced to its elements, involves nothing more than a line and a hook. Making the best choices in both is the surest way to land fish, regardless of other tackle used with these basics.
C. Boyd Pfeiffer is the author of 26 books on fishing and the outdoors, has written for major newspapers and for dozens of magazines with thousands of articles. He is widely known for his expertise in fishing and fishing tackle and has been named as a Legendary Communicator by the National Fresh Water Fishing Hall of Fame. He lives in Phoenix, MD with his wife Brenda.