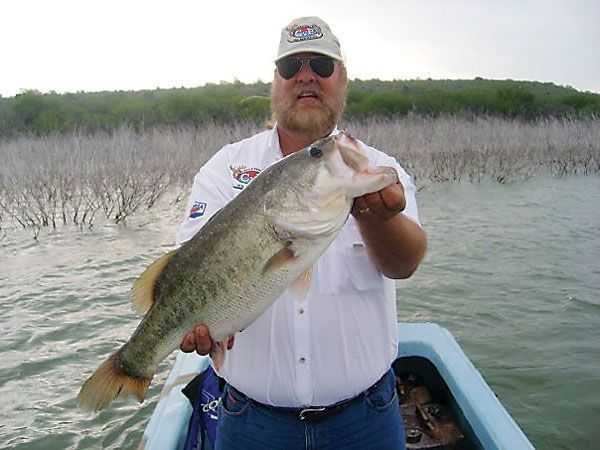 Mike "The Griz" Ritz here. Let's talk about fresh water for a change. Mexico has the best bass fishing in the world. Well, that's what I think. There are three lakes that Charles and I fish. It is not uncommon for us to catch ten to twelve pounders in all of them. You fish them mostly the same way as you do anywhere with top water, crank baits, swim baits and the old standby, plastics. These are all, of course, part of THE GRIZ GEAR brand.
You are going to want to check out Lake Guerrero. It is 100,000 acres at full pool and has many islands plus two rivers – the Corona and the Purification as well as submerged roads and creek beds which produce trophy bass. Submerged trees and fence lines provide staging areas for many of these big fish. Guerrero is full of Tilapia and Shad which are the main forage for the bass. The lake level is up and holding steady. This means great fishing for you! I have personally fished Lake Guerrero for over ten years now. My biggest bass catch there is a sixteen and a half pounder that I caught four years ago. This is a great lake for fishing plastic. All my biggest bass have been caught with my "Griz Crave Baits". I can tell you first hand this lake holds some of the biggest largemouth bass you will find in Mexico. While lake levels fluctuate as with all lakes in Mexico many ten pound plus fish are still being caught. Recent biologist reports indicate that the big bass in Guerrero exceed twenty pounds! They have said, "We are confident Lake Guerrero will soon produce a twenty lb.+ giant!" For about four years this lake has had safety problems. Well that's over now. You can go there without worry, but take plenty of Griz Crave Baits! You're gonna need them! The best colors for this lake are melon and pumpkin. You can't go wrong with them.
We have only the best if you want to get it from us at www.thegrizgear.com.
We would love to help you plan your trip however we can. We have the connections for the best fishing and best accommodations.