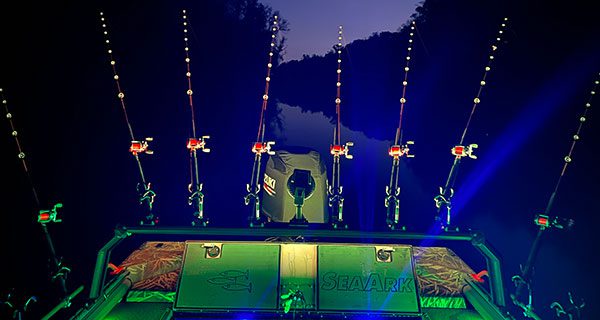 By Capt. Craig Hensel
What is going on guys and gals? Captain Craig here with AWOL Fishing Charters. First off, I just want to thank all of you for coming back month after month to check out my article. Without you all this wouldn't be possible. I just want everyone to know how thankful I am for the support and following. So let's jump into things.
I'm going to touch base on current fishing conditions, but more importantly I want you guys to come out to a very special event that will be at Deep Creek Outfitters in Fayetteville NC, on 09-16-2023. So please continue to read this article and come and show your support for this event.
Fishing Report
So July has been hotter than it needs to be for sure. I think most of us can agree. At this point I am ready for some cooler weather. If it got down to 30 degrees tonight my feelings would not be hurt one bit. Ok, maybe not that cold, but you guys feel my pain . With the hot temperatures this month, it has had water temperatures hovering in the upper 80's. The hottest I saw the water surface temperature in July was 91 degrees. Now we caught fish that day but they were coming up to the boat with a side of hush puppies and slaw. These fish were already cooked lol.
The Cape Fear River has been producing some good amounts of Spotted Bass on that early morning bite, the bigger largemouth have been doing most of their feeding late in the evening on into the night and throughout the night as well. You can hear the bass busting frogs anywhere you go all throughout the night on the surface. So that top water bite is key late in the afternoon and throughout the night. I have been doing more night time trips as opposed to day trips due to the heat. Nighttime feels so much better, the sun is not beating down on you, the boat traffic is very minimal, and the fish are plentiful and hungry.
The catfish bite has picked up big time this month as well. There have been a lot of blue and flathead catfish caught. We have been targeting these catfish with cut bluegill, live bluegill, and live eel's. Guys if you're not using live eels this time of year you can be missing out on some amazing rod bending action. Now every trip has been different where we have caught more on one or the other, cut bluegill, live bluegill, or eels. So if you're targeting these catfish make sure you have a variety of baits placed out right up next to log jams and the shallow flats.
This time of year these catfish come up shallow to feed at night. DO NOT be afraid to fish 2 feet or less of water. Place multiple baits out from shallow to deep. Those drop offs where the water goes from shallow to deep drop offs can be your hotspots on the river. Use your contouring maps to find those shallow flats with drop offs to deep water. Even if you find a hump in the middle of the river, either side of that hump could be a highway for big fish to travel at night on their way to finding food.
If you guys are interested in booking your September Fishing Trip please visit our website at AWOLFISHING.NET. We fish quite a few bodies of water including saltwater. COME ON AND GET BOOKED UP!! Spots are filling up fast. That early fall and fall bite is on the way! Don't miss out!
Special Event In September
So guys this was brought to my attention after I wrote by August article, so I do apologize for such a short notice but, I want to bring this to everyone's attention. On September 16th, 2023 Deep Creek Outfitters will be Hosting a Benefit Bream Tournament for Jenesis Dockery. You can fish anywhere in NC, Blast off is at 8am and weigh in will be at 5pm at Deep Creek Outfitters 1122 Person St. Fayetteville Nc.
For more Information or to become a sponsor of this event please call (910) 237-1343. I will be donating a 4 hour freshwater inland fishing trip at this event to be auctioned off. The proceeds from that auction will go to the Dockery family. I will also be onsite that day so if you want to come meet and greet and talk fishing please come and join us. I look forward to seeing a huge turnout for this event and meeting with you all. Come out and have fun and celebrate the life of Jenesis Dockery. See you all there.
Captain Craig
Captain Craig Hensel, AWOL Fishing Charters with Capt. Craig Inc. – 910-916-3138.