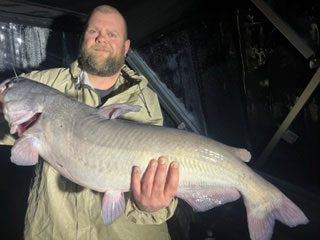 By Captain Craig Hensel
What's going on everyone? Captain Craig here, with AWOL Fishing Charters! I hope all of you are enjoying this rollercoaster weather we are having right now, because it has got the fish cranked up!
We have been having the absolute best rod-bending action on the Cape Fear River, from Wilmington to Fayetteville, North Carolina. The American shad have reached the Locks way ahead of schedule this year. The stripers and the catfish are hot on their tails. Yesterday, March 12th, 2023, I received a call from one of my regular customers, asking if I was on the water. I laughed and said, no sir, I just woke up.
Now mind you, its 10AM. The time has changed and has me all sorts of messed up. Anyways, it's pouring rain, cold, I mean just one heck of a dreary day. He asks if I would take him out for American shad and some nighttime catfishing. So I said, "yeah man, when do you want to go?" He says, "today". I said, "well let me throw on some clothes, grab some rods, we'll hook and book. I haven't ever caught a fish wearing a raincoat." So we drove to Lock and Dam #2 in Elizabethtown, NC.
Upon arrival, I put the full enclosure up on the boat, threw in the 20lb cylinder of propane with the buddy heater, dropped the boat in the water, and we were off. We pulled up behind the "no boats allowed" buoy, I dropped the Garmin Live Scope in the water and saw a few shad sitting in the current, just behind some riprap along the bank. We made 30 casts and limited out.
So, on the Cape Fear River, the limit is 5 American shad, per person, per day. We were the only boat on the water, so we stayed on them for a little bit longer and caught and released probably 75-100. It was constant rod action for about 2 hours. I looked at my customer and said, "Are you ready to go try for some catfish? I want to be set up before dark, so after dark we will be reeling in fish." And that's just how it happened.
We fished 2 different spots, from sundown to 11pm. He put the first flathead in the boat about 20 mins after dark. After that first fish hit the deck, it was one after another. We were apparently sitting on a school of catfish in 20 ft of water, off a ledge in the river channel. I couldn't believe it. They just showed up out of nowhere. I had no intention on catching that many fish in one spot. The biggest fish was around 25lbs, but we caught and released well over 30 fish. It was an incredible night. But that's how things happen.
You can scan an area that may be holding one or two fish, or none at all, and then all of a sudden they just pile in your area. Just remember guys, if you see a location that looks good, don't pass it up just because your electronics don't show anything in there at that time; those fish may move in within minutes. Always trust your gut and instincts.
I'm running a couple of specials this month on trips. Give me a call at 910-916-3138, and we can talk fishing, or you can book a trip and come fish with me. Either way, I hope you all have an amazing fishing season. Check us out on our social media platforms. Be sure to like, share, follow, give a thumbs up and subscribe. I would greatly appreciate it.
Thank you all for taking the time to read my column. If you guys have any questions or want to read about a certain topic in next month's column, feel free to reach out to me anytime.
Captain Craig Hensel, AWOL Fishing Charters with Capt. Craig Inc. – 910-916-3138.