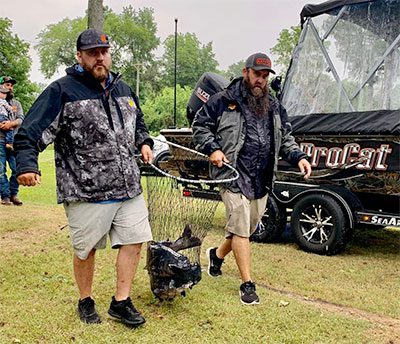 By Cart. Craig Hensel
What is going on you guys, Captain Craig here with AWOL Fishing Charters. I hope all of you are out enjoying this beautiful Spring, Fall and Summer like weather we have been having. May and June have been amazing for fishing all around. The post spawn Largemouth Bass have been gorging on big baits for us this month as the big females have finally decided to come back out. The Catfish are finally coming off the spawn as well and have been gulping those big live bream and eels up.
So guys if you remember from last month's issue I spoke about the St. Jude Fishing to Fight Cancer Catfish Tournament. Well it has come and gone once again and this year AWOL Fishing Charter's Team took 5th place out of approx. 76 teams that fished it. My tournament partner David Hull came all the way to Fayetteville NC from Missouri to fish this 24 hour tournament with me. I was fortunate enough to have his company for 2 weeks prior to the tournament to catch up on fishing and life. It's always a blessing to have this fella onboard, so David when you read this Thank You for all your Military Service over the years and Thank You for being a participant in the St. Jude Fishing to Fight Cancer for the kids Tournament. We all look forward to seeing you next year.
So guys we didn't put in a whole lot of work into finding fish for this tournament. This is one of those events where the $5,000 dollar prize money didn't really mean a whole lot. We fished this tournament for the children. We went out and had a great time and didn't stress over catching fish and it just so happened we caught plenty. Now it was rough for a 24 hour tournament. We boated approx. 27 fish in 24 hours. That's about a fish per hour average. It was ok but not insanely good. The struggle was real for us for sure. Just before dark I told David we needed to do something crazy like fish near the boat ramp and catch 3 good fish to take to weigh in. He turns to me and says, "you're kidding right?" I said, "absolutely not, let's do it!"
He says, "well you're the Capt." So just before dark I move down river to a bridge just up from the boat ramp where weigh in was and anchored just above the middle pillar. We baited 14 rods and staggered them, live/cut, live/cut etc. We get well into dark and we caught maybe 6 out of that spot that were throw backs 8-10lbs. I fall asleep around midnight on the bow of the boat and at 3:05 David wakes me up saying he's got one pulling drag. We boated a nice 28lb blue catfish. 5 mins after that we boated 2 more fish that put us right at around 60lbs we were guessing. Now we are feeling a lot better about going to weigh in with some good fish under the conditions. David is in disbelief that we had caught these nice fish this close to the ramp.
Well after a few more throw back fish it shut off around 3:30-4:00am and we didn't boat another fish the rest of the tournament. We get to weigh in and drop our fish on the scales and it flirted with 60, 59, 61 and then the scale dropped off to 57.9 after the fish stopped flopping I was like hey we will take it, we are in second at this time we are doing good. Then more of the top anglers start showing up and we start to sweat a little bit. After it was all said and done we didn't drop below 5th. I couldn't believe we had placed in the top 5 with 3 fish we caught right by the boat ramp. It was unreal!! But what an amazing time it was.
I just wanted to share this story with you guys and make you aware that you don't always have to drive 20 miles away from where you launch to catch good fish. Boat ramps and areas nearby are often overlooked. Keep in mind how many tournaments are held and how many fish are released by some of these ramps. Drop your boat in and don't crank the big motor. Troll out a little ways and see what's lurking. You might be baffled by what you catch. But anyways if any of you guys are interested in coming and fishing this tournament it is hosted by Swamp Boys Organization. You can look them up on Facebook or look up the St. Jude Fishing to Fight Cancer Catfish Tournament in Fayetteville NC online. Come down and have a great time and fish for a great cause. We would love to meet and fish with all of you. But guys get out there and get those lines wet and catch a big one.
The weather is starting to get hot so hit those early morning and late evening and even night bites. Be sure to check AWOL Fishing Charters out on Facebook and Tik Tok. Be sure to like, share, and follow we would greatly appreciate it. Until next time… Tight Lines.
Captain Craig Hensel, AWOL Fishing Charters with Capt. Craig Inc. – 910-916-3138.