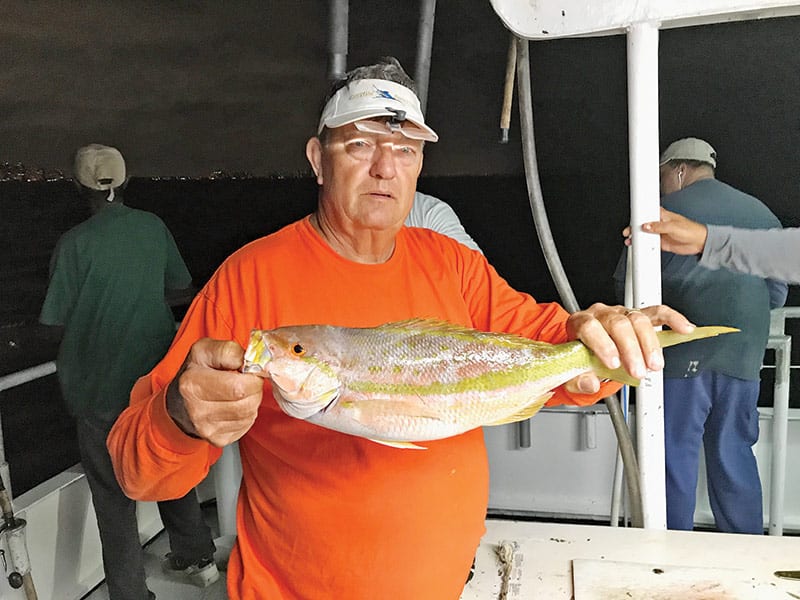 The cooler temperatures of December are such a relief from the hot summer we just went through. Even the fall was pretty warm for us this year. With the cooler temperatures, fish like cobia that normally stay deep, rise to the surface water column and are the perfect big game quarry for the drift boats. Cobia patrol the reefs and are most often seen following behind slow moving marine creatures such as sea turtles, rays, big sharks and whales. In December, a common scenario is to have a school of cobia swim right up to the boat and follow slowly behind it. The fastest angler to get bait pitched out there wins the fish. Sometimes a few cobia show up at once, which creates a frenzy of action and some much desired chaos in the cockpit. When I go drift fishing, I always keep a pitch bait ready, just in case a hungry dolphin or cobia swims up to the boat. It helps if you're wearing some polarized sunglasses and can see down deeper and through the glare of the sun on the top of the water. That extra or second or two you get to react for spotting the fish first is usually all it takes to be the lucky angler on the trip. Normally, we're bottom fishing on our drift boat trips, but by keeping a pitch bait at the ready, pays off big-time when you need it. Success happens when preparation meets opportunity.
Kingfish, tunas and snappers are also biting good on our drift fishing trips this month. Snappers bite especially good this month and can be caught equally good on the daytime drift or the night time anchor trips. Yellowtails, mangroves and mutton snappers are our main snapper catch in less than 100 feet of water. Lots of mutton snappers are biting this year, many more than last year. They just raised the size limit on muttons and although we have to throw a lot higher percentage of them back because they are shorts, I can already see the big increase in their numbers. This is a great thing for the future of fishing. Deeper than 100 feet of water, we catch the vermilion snappers. Lots of variables come into play to successfully catch vermilions including current, wind, speed of the drift, depth, time of day and too many others to list. When the conditions are right, you can crush the vermilion snappers and everyone on the boat gets hooked up with every hook you have in the water. This is the last month for groupers until they close on January 1. We've been catching a lot of larger sized black and red groupers the past few weeks. It's great to see groupers starting to make a comeback. The secret to grouper is to use heavy enough gear to get them out of the rocks before they can take you into their hole and cut you off. It's an art to catch groupers that's easy to learn but takes a lifetime to master. Lots of good action to be had fishing the Fort Lauderdale reefs. Enjoy the cooler weather and the good bite while it is here.
Tight lines and good luck out there.
Capt. Paul Roydhouse
Fishing Headquarters
www.FishHeadquarters.com
https://www.facebook.com/FishingHQ
(754) 214-7863