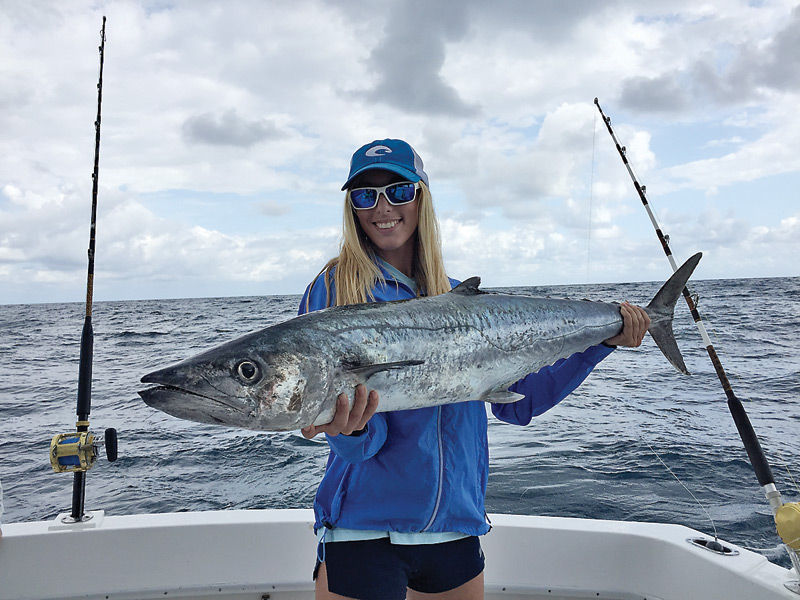 February fishing is finally here.  We're deep into the winter bite and the kingfish are starting to bite good. These days, the morning bite is usually better for kingfish and the afternoon trips are generally better for snappers and other bottom fish. Kingfish are a tough bite but they are out there and they are good sized, averaging 6-12 pounds and sometimes bigger. Drifting a 3 hook sardine or ballyhoo is working well to catch them. You can also do well by whip jigging with a 1-2 ounce bucktail jig. Jigging can sometimes get a more aggressive bite.  Fishing either the 3 hook kingfish rig or whip jigging gives you the chance at hooking a blackfin tuna or even a rare wahoo. Sometimes blackfin tuna and wahoo swim within the schools of bonito that will occasionally tear through our spread. When a few people hook into bonitos at once, be ready for a big wahoo or tuna to strike, there are some around. More than a few sailfish are being caught drift fishing this season too.  Live baiting isn't the only way to catch sailfish.  They're just as likely to eat a drift ballyhoo.  Afternoons are very good this month for the bottom fishing snapper bite.  Mutton snappers are biting splendidly as we get later in the day and into the night.  Groupers too, though out of season, are biting frequently. This time of year we call them 'lucky groupers'.  We'll let them replenish their numbers for a couple months and get them in the Spring.
The night snapper fishing trip is our best trip for action.  Yellowtails are biting very good and there are a fair number of mangroves and muttons as well. On nights when the conditions are just right, we sometimes go deep and drift for vermillion snappers.  This is much deeper water, so current and wind conditions must be favorable for us to do that technique. On most night snapper trips, its best to anchor up-current of your spot and start chumming the water.  The chum will flow and draw in fish from all around and from way down-current.  Even if the bite starts off slow, give it some time to turn on and for the chum to do its job. When the yellowtails start chewing, you will know it.  Everyone on the boat should be getting bites and/or hooking up.  For only being a 2-3 pound fish, yellowtails take the bait with the same veracity as a kingfish and on a light tackle rod, they put up a great fight.  And best of all, yellowtails are one of the tastiest fish in the sea. We're catching a handful of larger mangrove snapper and mutton snappers on these trips too, but yellowtails outnumber them ten to one.  Night fishing, as always, is the best drift boat trip for action.
We're having good fishing these days off the coast of Ft Lauderdale.  Good luck out there and hope to sea ya on the water.
Capt. Paul Roydhouse
Fishing Headquarters
www.FishHeadquarters.com
https://www.facebook.com/FishingHQ
(754) 214-7863