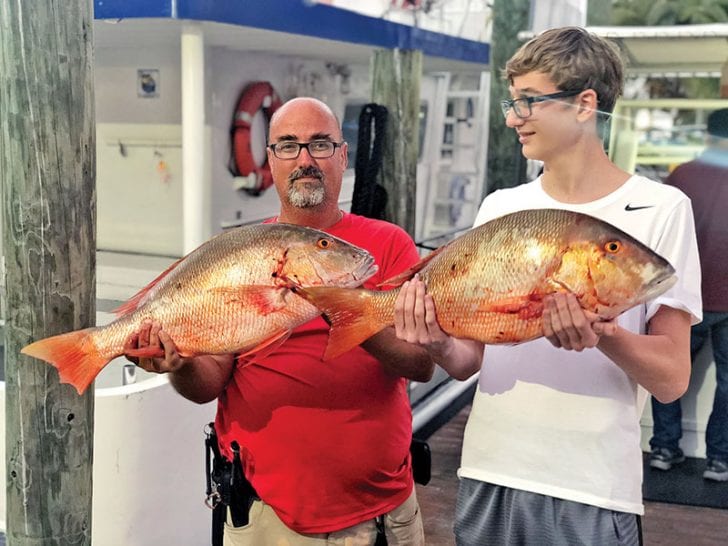 February is the start of our kingfish season in Fort Lauderdale. A lot of kingfish start filling in onto the second and third reef, in 40 to 100 feet of water. A lot of small, just over keeper size kingfish will be caught this month. Kingfish are making their way northward up the coast, traveling in pretty large schools for protection and eating everything they come across. I catch a lot of kingfish right on or very close to the bottom this time of year. Fish a smaller bait, like a ballyhoo plug or small whole ballyhoo and sardines. Jigs work very well on these kingfish too. Go with smaller ½ to 1 ounce jigs, baited with a streamlined cut bait strip for scent. Jigging will also get a better tuna bite, and there are a lot of small to medium sized blackfin tunas around this month. We carry a lot of glass minnows on our boat, so when we find the tunas busting on the surface, we can get them chummed up right next to and all around the boat. Mahi mahi also come in on the reef sporadically. A few here and few there may swim in on us while drifting the reefs and are easily caught by quickly pitching them a bait. Dolphin are lit up in the water and you can see them really well when they swim up on you. They are iridescent turquoise in color and they almost glow. You can't miss them.
Night fishing is good in February too. Mangrove snapper bite really good this time of year and some of them are really nice in size too. We catch them especially good while anchoring around the 40 to 60 foot wrecks. The yellowtail snapper we catch in the winter are smaller than the rest of the year and they move in really shallow this season, into 20 to 30 feet of water. As mangrove snapper tend to bite better later in the evening and yellowtails bite best just after dusk, we start off on our first spots in shallow and move out to the deeper wrecks later into the trip. Mutton snapper are also around and biting pretty decent most nights. A ballyhoo plug on the bottom is still the undefeated, heavyweight champion of catching muttons. Shallow water groupers are still out of season, so unfortunately have to be released. An oddball cobia is also a possibility anytime you're drifting or anchoring.
Good luck fishing this month. I'll sea ya on the water!
Capt. Paul Roydhouse
Fishing Headquarters
www.FishHeadquarters.com
https://www.facebook.com/FishingHQ
(754) 214-7863