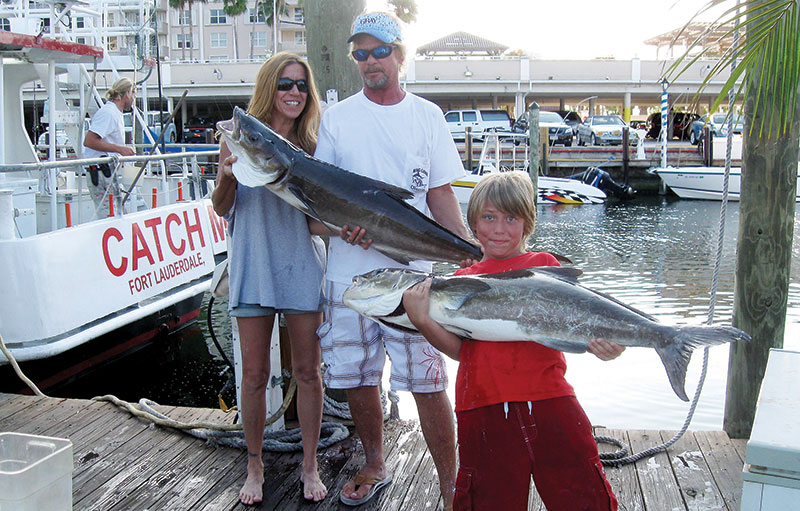 It's a new year and a new batch of fish on the reef this month in Fort Lauderdale. Kingfish are pretty solid in 90-110ft of water, on or just off the reef. Dead bait drifting or deep jigging are both effective methods to catch them. The kings average a few pounds larger than normal this time of year. Cero mackerel and Spanish mackerel are also mixed in with our daily catches. Grouper are unfortunately out of season for the next few months, so they must be released if caught. However, there are still some nice fish biting on the bottom. We catch some nice mutton snappers fishing the bottom while drifting, on average a couple per trip. Mutton snappers are the largest of the snappers we catch and bite best using a long leader with a whole ballyhoo bait or sardine. Another fish that we catch drifting the reefs this time of year is cobia. Cobia are a large game fish species that can be caught on the surface or the deep. They tend to travel in schools and are often found following behind large, slow moving sea creatures such as sting rays, turtles and whales. They are great eating and always exciting when we do catch them. Our daytime drift trips even catch a few big game fish like sailfish and sharks. There is a little bit of everything biting this month in Fort Lauderdale.
Our night trips are the best trips for action. Snappers come out of the woodwork and bite exceptionally well at night. They are nocturnal feeders by nature and they get a lot braver once it gets dark. Our night trips anchor up and chum like mad to get the snappers going. When the bite turns on, you can catch them one right after the other. Yellowtails and mangrove snappers sometimes frenzy this month and when you get the right current and conditions, you can load the box with them. We also catch some bigger mutton snappers on this trip too. Bluefish sometimes make a run throughout waters in January. Bluefish are mostly northern fish, caught in New England waters but they sometimes make a run down our coastline this month. In January we catch a lot of the "snapper" bluefish (1-3 pounders) on the night trips and then a handful of the full grown bluefish (10-12 pounders) during the day. I will say they are okay eating, depending on your taste for fish. I personally find them to be more oily and fishier flavor than most fish. Then again, some people love 'em. I just fish for whatever is biting best out there. You should get some good action drift fishing this month in Fort Lauderdale.
Good luck fishing and I'll sea ya on the water.
Capt. Paul Roydhouse
Fishing Headquarters
www.FishHeadquarters.com
https://www.facebook.com/FishingHQ
(754) 214-7863