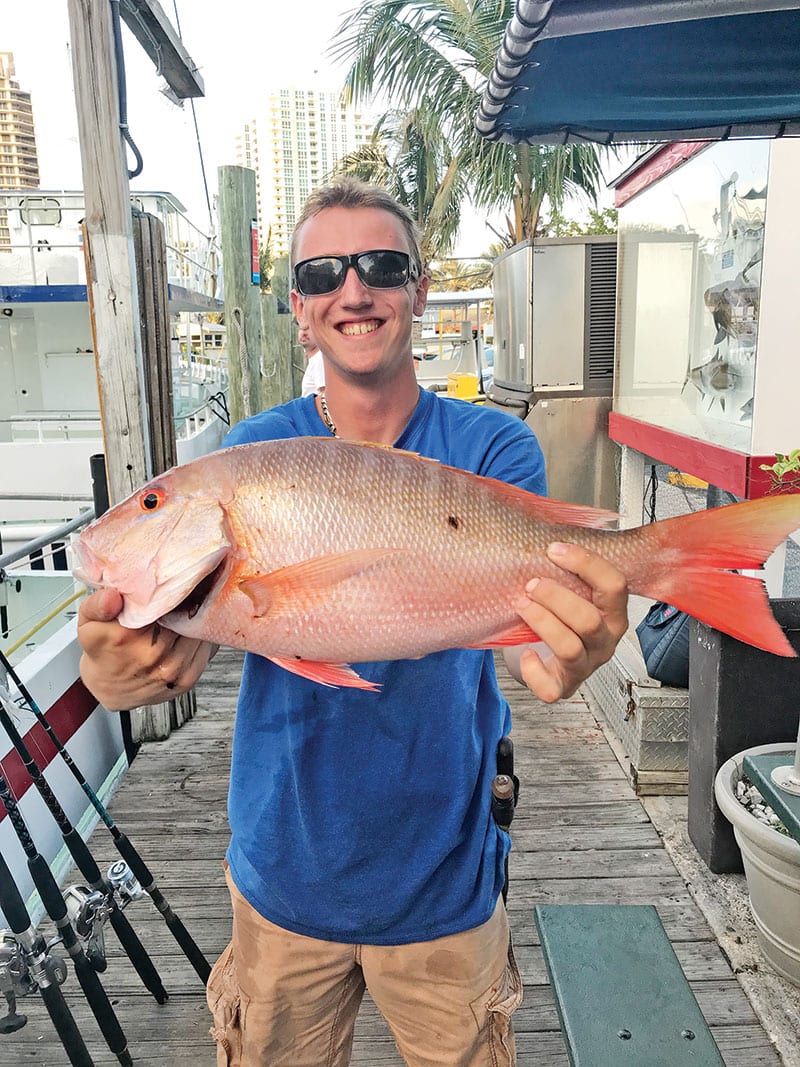 March is finally here and so are a whole new batch of fish. Blackfin tunas and kingfish are the main schools on the reef. You can see schools of blackfin tuna feeding on the top of the water. They tear up the top of the water with commotion as they annihilate a pod of baitfish they happen upon. When we're drifting and schools of baitfish are following the boat, the tunas sometimes come right up next to the boat, busting the surface. Butterfly, whip and natural feather jigs work very well for these schoolie sized blackfins. Kingfish are biting too, but a bit deeper. This first month of spring brings a lot of baitfish and available food onto the reef and with that comes the big schools of kingfish. The kingfish in March will be mostly 5-8 pounds with a few big smokers caught here and there. Mahi mahi come in on the reef this time of year and jump us while drifting. Anytime there is an east wind for a couple days in a row, the dolphin bite will be on!
Anchor fishing at night is not too shabby either. Yellowtails are starting to fatten up. We're catching a lot larger yellowtails than we were a month ago and they are moving out deeper onto the second and third reefs. The best yellowtail bite is in 65-100 feet of water. Fishing the deeper water, we're catching a lot more variety too. Of course, red, black and gag groupers are biting great, but they are all out of season. We call them happy groupers this time of year, but they sure are fun to catch. Mangrove and mutton snappers are mixed in the catch and biting pretty good. A few cobia are lurking the reefs and biting on the night trips and a few big predator fish like barracuda and sharks are about. Cuban night sharks, white tip, black tip, nurse sharks and others are all biting on these trips. In the spring, you'd better reel your snapper in quickly or a bigger fish is going to get him.
Have fun fishing everyone and good luck out there. This is a great time of year for drift fishing on the reef.
Capt. Paul Roydhouse
Fishing Headquarters
www.FishHeadquarters.com
https://www.facebook.com/FishingHQ
(754) 214-7863