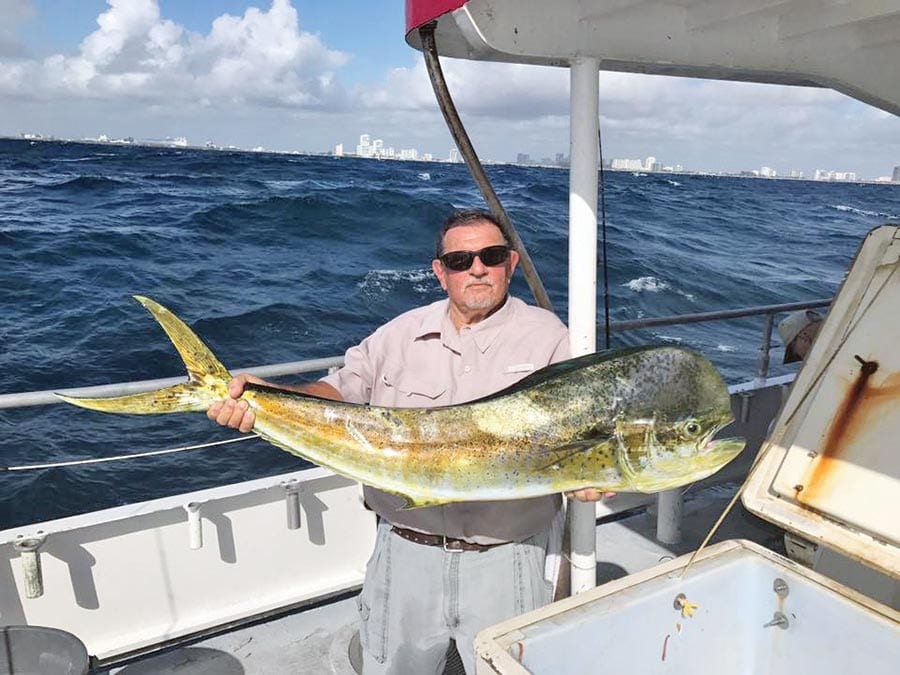 November is a good month to catch kingfish while drift fishing in Fort Lauderdale. The mullet run, a huge baitfish migration where hundreds of thousands of mullet travel down our beaches, is still underway. This event revitalizes our reefs with new pelagic fish as they feast on the multitude of available food. Most of the kingfish we're catching will be in the 5-10 pound range with some monster kingfish mixed in from time to time. Kingfish aren't the only fish to take advantage of this "mullet buffet". Blackfin tunas, wahoo, mahi-mahi and sailfish all come in to shallower water this month to get their fill. The mullet run will taper off towards the end of the month, but action should be good for quite a while. While there is almost always more action to be caught fishing the bottom, a flat line surface bait is very effective to hook into the bigger species this month. For those fishing the bottom, yellowtail snappers bite pretty good this time of year. Mutton snappers, African pompano and groupers are also lurking on the bottom and have a hard time passing up a well-presented bait.
Night anchor fishing for snappers is excellent this time of year and these night trips are our best trips for catching the most action. Yellowtail snappers are all over the place and biting well. When anchored up and chumming, yellowtails bite the best on a flat line bait rigged without a sinker. They like to hang back in the chum line, picking up scraps of meat drifting back off the chum bag. Those anglers fishing the bottom with a heavy sinker will have a much better shot at catching the bigger snappers and possibly grouper too. Mutton snapper, mangrove snapper, and the shallow water groupers (gag, black, red and scamp) should all be biting with regularity this time of year. Cobia sometime move through too, and our night technique of anchor fishing and chumming works well for them.
There is a lot of action to be caught day or night this season in Fort Lauderdale. All that's necessary to get them is to go out there and throw out a line.
Good luck to everyone fishing this month. I'll sea ya on the water.
Capt. Paul Roydhouse
Fishing Headquarters
www.FishHeadquarters.com
https://www.facebook.com/FishingHQ
(754) 214-7863