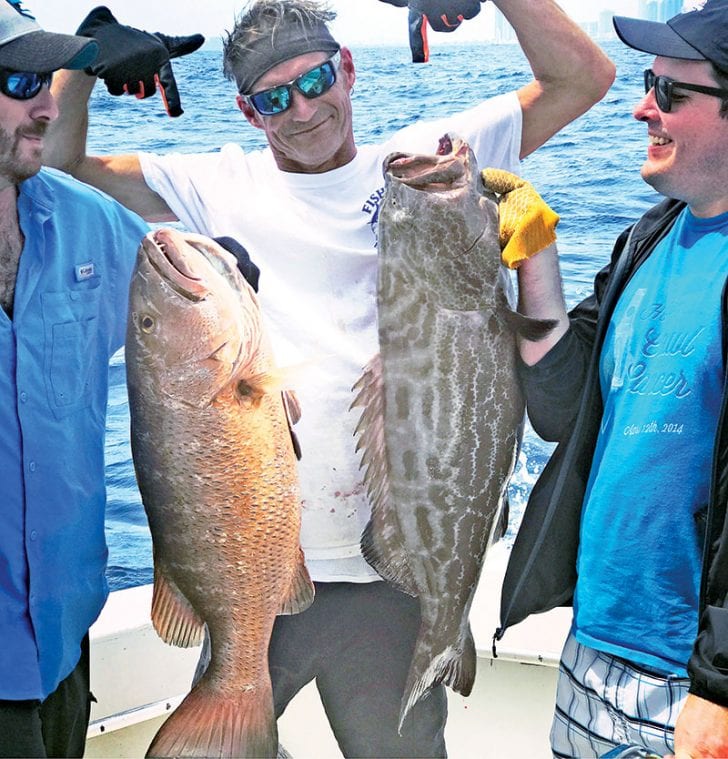 The fishing offshore really livens up this time of year. Schoolie dolphin, starving and ready to eat just about anything they can fit in their mouths, are forming into large schools and migrating with the flow of the Gulfstream current. Dolphin are one of the fastest growing fish in our waters and reach catchable sizes only months after hatching. These summertime dolphin average 3-5 pounds and what they lack in size, they make up for in sheer numbers. You can catch your entire boat limit of dolphin in just one school, with twice that many left uncaught for the next lucky boat that happens upon them. While most of the year offshore fishing is 'feast or famine' with famine being the case most of the time, summertime offshore fishing yields a feast a lot more often.
While dolphin are biting like mad offshore, fishing along the reefs and wrecks inshore can be just as fruitful. Wreck fishing is red hot. Amberjacks, cobia and big groupers can all be caught dropping live baits around the deeper shipwrecks. Big barracuda and sharks are also found prowling around these underwater fish oases. Large kingfish are biting strong on the reef and can be caught trolling artificial lures or by live baiting in 80 to 150 feet of water. A few blackfin tuna are being caught here and there along with an occasional surprise wahoo. It's a mixed bag on the reefs, with a little bit of everything biting.
These months, the fish are biting all over, so you don't have to go far to get some action. Hope to see you all out there.
Good luck everyone and tight lines.
Capt. Brett Magers
New Lattitude Sportfishing
(954) 707-2147
www.newlattitude.com