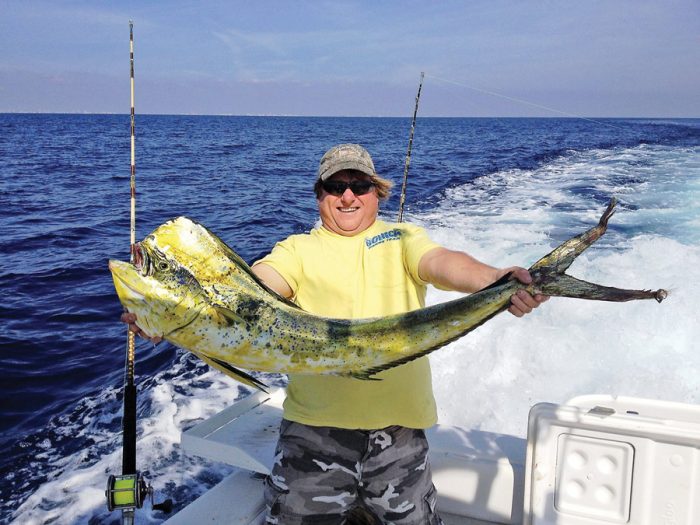 December is one of my favorite months to fish in Fort Lauderdale. There are 2 main attractions this month: sailfish and dolphin. Every year, from November through January, sailfish make a massive push through our waters. Sailfish can be caught here in Fort Lauderdale any time of the year, but only during these 3 months do we have such a high concentration of them. The best sailfishing days are during a cold front. I really don't know why sailfish bite so well during a cold spell, but the fact remains, a cold snap means the sailfish snap. It never gets really cold in Ft Lauderdale. When I say a cold front, we're still talking 50-65 degrees, but it gets the sailfish turned on. On average days this season, catching 1-3 sailfish is a good trip, but on these chilly days, we can put awesome numbers of sailfish on the board, sometimes 10-12 sailfish on a trip. The best technique for sailfishing is kite fishing, where we use high flying kites to present the baits, keeping the baits suspended and splashing on the top of the water. We love kite fishing because when the sailfish comes up, you get to see the whole bite sequence on the top of the water as the sailfish chases the baitfish. It's awesome to watch. Sailfish are all catch and release, but at 7 feet in length and being such a gorgeous gamefish, they make for great photos and awesome replica trophies for your home or office wall.
Dolphin are the other main attraction in December for the sportfishing boats in Fort Lauderdale. This is a great month to go offshore and hunt for dolphin. The Gulfstream waters, 2-20 miles offshore are laden with dolphin. I love to go offshore on an all day trip, put out the lures and go trolling for dolphin. You might have to spend a good deal of time trolling offshore to actually find some fish. Dolphin like to hang near to seaweed or weed lines, floating debris. Birds are also great help to us for finding dolphin. When you find a school of dolphin though, the action is on! A school of dolphin will stay right with the boat and you can sometimes load your box off one school of fish. They are great eating and freeze well! If you find your dolphin near to a floating board or other debris, always fish a deeper bait with wire leader for a big wahoo. There are some big wahoo out there this time of year as well.
Whatever you fish for, you can't go wrong fishing this month. It's fishy here in December. Tight lines everyone.
Capt. Adam Reckert
New Lattitude Sportfishing
(954) 707-2147
www.newlattitude.com