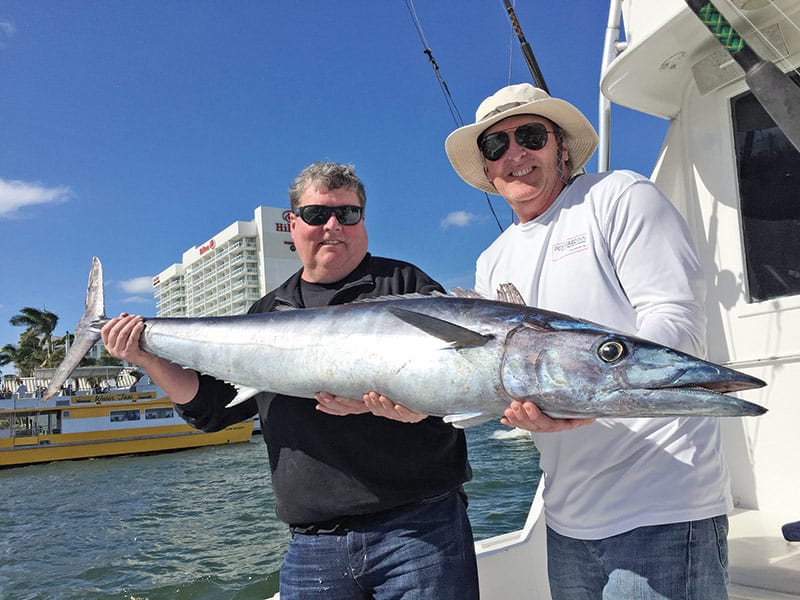 It's an interesting month for sportfishing in Fort Lauderdale. Kite fishing is a great option for big game hunters. Sailfish are biting strong and our world famous shark fishing season is just getting rolling. Every year, from February through May, we have an incredibly large big game shark migration down our coast. Hammerheads, mako sharks, tiger sharks, bull sharks and the very exotic big-eye thresher shark (the one with the crazy long tail and huge eye) all make their way up the gulfstream current, just 2 miles offshore of Fort Lauderdale. We take out a lot of Big Game charters this month to hook into these sharks and billfish that range anywhere from 6-10 feet long and up to 400 pounds. There are some BIG critters swimming out there offshore this month. A ways further out, fishing 15-20 miles offshore, you have a better than fair chance at catching swordfish and blue marlin in February. This is a month for big fish.
Wahoo are also a big hit this month. Already in January, we've had a great wahoo bite and it should continue on throughout this entire month. Wahoo, ranging from the average 15 pounder up to monster 40-50 pounders bite almost every day. They are very sensitive to the tide and moon, with the best bite occurring each day on the falling tide and the best few days of wahoo fishing right around the full moon. Trolling artificial lures at faster speeds or slow trolling live baits like bonitos or speedos are the best techniques to catch wahoo. Wreck fishing is also a great way to get good action this time of year. Amberjacks, almaco jacks, groupers, cobia, barracuda and just about anything else can be caught around the wrecks in 150-350 feet of water. They are beginning to show up and will continue to bite better and better later into the month and beyond. If you want some quick action on some big fish, wreck fishing with live baits is the ticket.
We're getting into our best time of the year to fish in Fort Lauderdale, so come on out and Let's Go Fishing!
Tight lines and good fishing.
Capt. Brett Magers
New Lattitude Sportfishing
(954) 707-2147
www.newlattitude.com