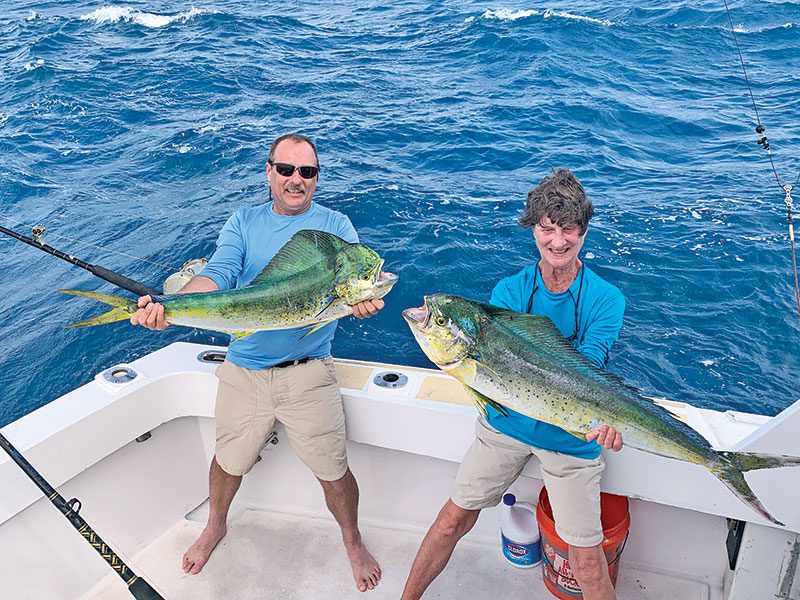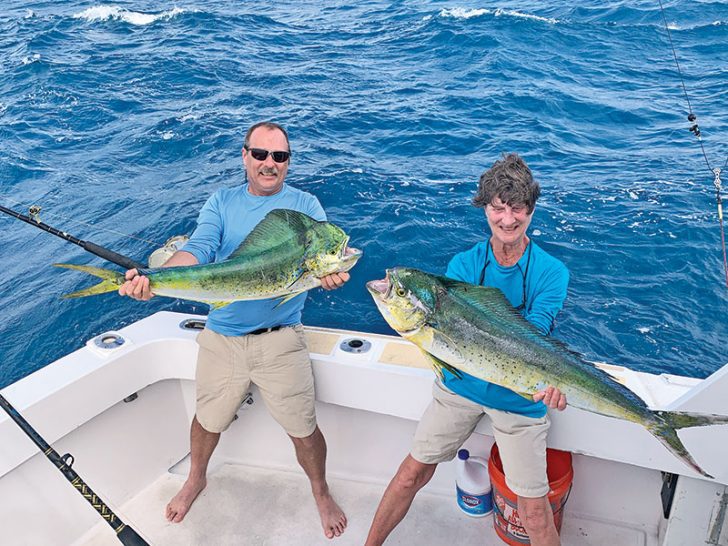 February is a transitional month for a lot of fish here in South Florida. We're at the tail end of the winter sailfish season and some new spring fish are starting to bite. The sailfish are still running strong. In fact, this has been a banner year for sailfish. We are regularly getting bites from 2 to 3 sailfish on a trip and on some of the best days boats are seeing 4 to 7 sails. The colder days during a cold front are usually the best days for sailfishing. February is generally the peak month for sailfishing. Wahoo are biting on the troll in as shallow as 80 feet of water. Best bite has been on the planer baits, with either a sea witch and strip or a drone spoon. Troll the inside and outside edge of the reef from 80 to 250 feet deep and you may hit wahoo, blackfin tuna and kingfish. The small blackfin tunas are all over the place out there. If you troll, you should find them. Trolling natural feathers and smaller lures work well for both small and big fish. Remember, elephants eat peanuts.
Big amberjacks and warsaw groupers are starting to show up on the shipwrecks in 200 to 300 feet. This is a fun time of year to go poking around from wreck to wreck as you never know what you might catch. This time of year, the wrecks start holding amberjack, almaco jack, warsaw grouper, barracuda, cobia and mutton snapper. Dropping a live bullet bonito or blue runner is a good bet for a big bite. Offshore, there are a few bull dolphin roaming around out there. Trolling offshore can be a slow and boring day, but can turn exciting really quick. Just the other day, we were trolling offshore for a couple hours with no bites. We spotted a pair of frigate birds flying in the distance. We trolled over near them and hooked up with a 30 pound bull and a 15 pound cow dolphin. I describe offshore fishing as hours and hours of boredom, interrupted by a moment of panic. You can't catch them unless you invest the time and put in the miles.
Good luck everyone and tight lines!
Capt. Nick Colosi
New Lattitude Sportfishing
(954) 707-2147
www.newlattitude.com