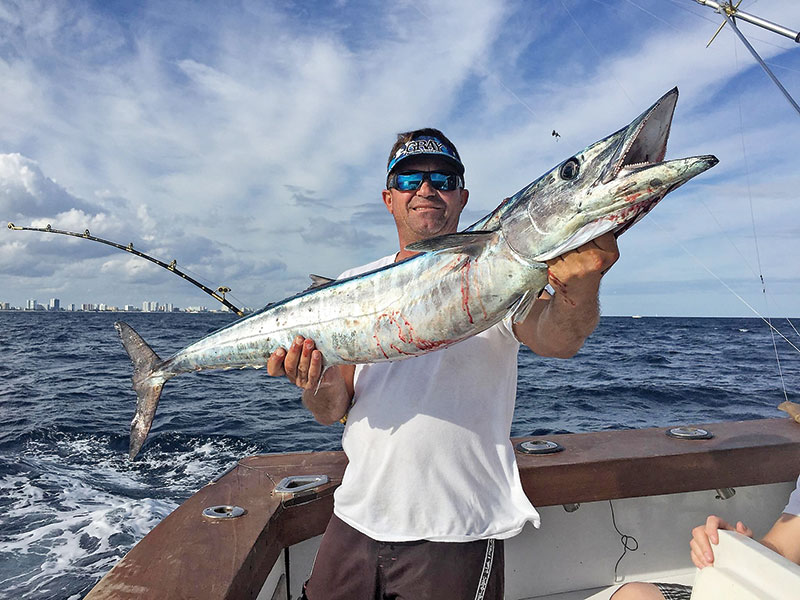 It's getting chilly in Fort Lauderdale and that means the sailfish are biting. January is one of the peak months for sailfishing in South Florida. The strong winds make excellent conditions for kite fishing, which is the most effective method for catching sailfish, dolphin and other surface feeding gamefish. In Fort Lauderdale, the continental shelf is very close to shore and it gets deep very quickly. 1 mile offshore is already 100ft of water. If you go 2 miles offshore it gets as deep as 600ft of water. The Gulfstream runs right along and hugs this drop-off. We call this area "Sailfish Alley". It's the area where all the sailfish migrate through and there's a bevy of other gamefish species that inhabit this area too. Just go offshore about a mile, to about 100-200ft of water and fly the kites with some frisky goggle eyes dangled on the surface and you're very likely to hook into one of the most exciting fish in the world to catch… Sailfish.
Wrecks deserve an honorable mention this month too. January wreck fishing is excellent. Unfortunately, groupers are out of season as of January 1, so many fishermen stop bottom fishing around the wrecks until they come back into season. This is great for us! While it can be painful to be required to release a big grouper you just caught, amberjacks, cobia, sharks, barracuda and a few other species congregate around these wreck too. And with the lack of fishing pressure around these spots, wreck fishing can make for great action. Amberjacks, one of the strongest fighting fish in the ocean, are just beginning to show up around the deep wrecks in January. In a few months, they will dominate the wrecks. Vermillion snappers will not be closed this year, as they have been in years past. Great news! Vermillion snapper fishing on multi-hook chicken rigs is also fun and a great way to catch dinner. This a great month to add some color to your fish box by doing some deep drop wreck fishing.
Good luck to everyone fishing this month. We'd love to have you out with us on one of our fishing charters!
Capt. Adam Reckert
New Lattitude Sportfishing
(954) 707-2147
www.newlattitude.com