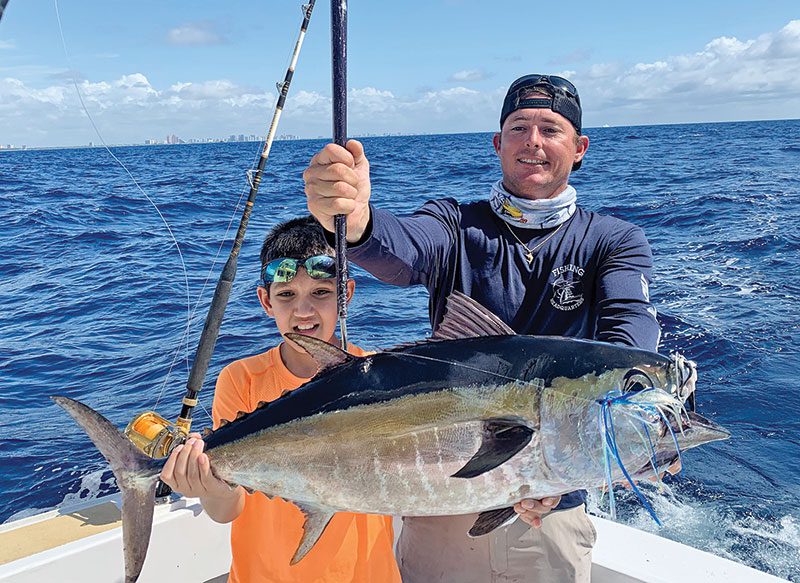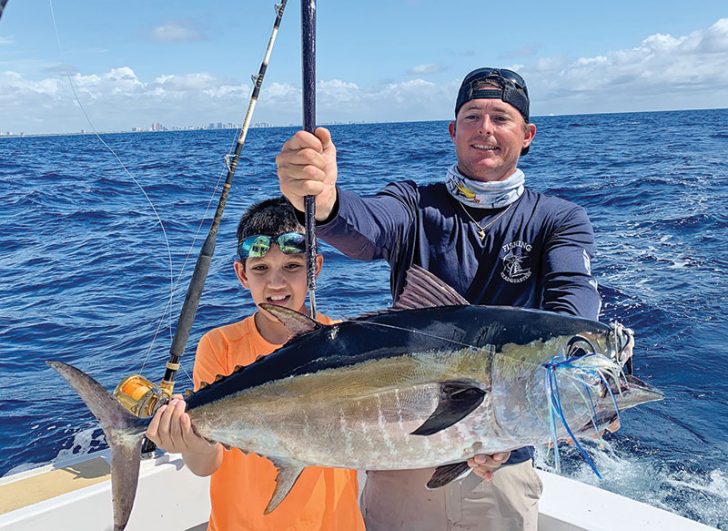 Sportfishing is a lot of fun in the summer. Trolling the reefs produces non stop action on bonito and kingfish as they are really thick out there. On some days, you can literally catch over forty 20 pound bonito on a half day trip. They are just everywhere. Mixed in with the schools of bonito are kingfish, wahoo and even sailfish. They all feed on the same baitfish, so it makes sense they would be patrolling the same territory. Blackfin tuna are also a great summertime fish we catch a lot of this month. Blackfins tend to travel solo this time of year and they are much larger than the football sized ones we've been catching the past couple months. The July blackfins we catch are full grown and well fed 25 to 30 pounders. We catch a lot of blackfins trolling around the Pompano and Hollywood sewer outfalls. Fishing around the shipwrecks can be good for some big fish too. Barracuda, jacks and sharks like to hang around the shallow wrecks during this time of year, while grouper and cobia fishing is good on the wrecks over 200 feet deep.
Offshore fishing is picking up too. The mahi mahi have finally shown up for us and are forming up into some pretty large schools. This is a good season to head offshore and troll along the weedlines, looking for birds and floating debris. If you've got a long trip, you can go out there and keep trolling around until you find a school of fish. Then just keep at least one in the water at all times, and pull out the light tackle spinning rods. You can sit on top of a school of dolphin and bail them all day. It's a blast. The dolphin are small ones, most of them schoolie sized at 3 to 5 pounds. This past week, we were live baiting with the kites in only 150 feet of water and caught a 54 pound mahi mahi, our biggest one all year. Usually for those monster dolphin, you have to go way offshore to find them, but this one came right into the reef. There's a lot of activity a mile and half off our coast which attracts some of the biggest game fish around.
It's shaping up to be an excellent July fishing season. Tight lines.
Capt. Nick Colosi
New Lattitude Sportfishing
(954) 707-2147
www.newlattitude.com