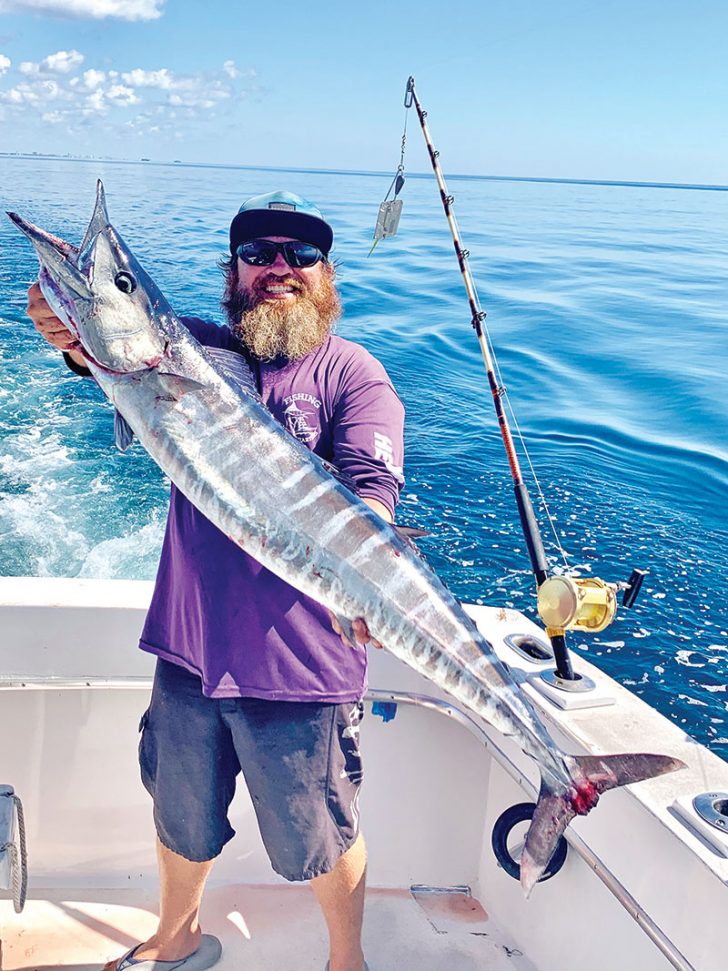 We're into September now and the fishing is starting to get good. Dolphin offshore are starting to show up. Last year, the dolphin didn't really start getting hot until September. We had a relatively slow month for dolphin in August, which makes me think this year will follow last year's pattern of a late season dolphin run. Weedlines, formed from colliding winds and current, are areas where seaweed is bunched up along a long track. These weedlines form up anywhere from 3 to 20 miles offshore depending on the day. Trolling lures parallel to and near to these weedlines is considered the best method for finding dolphin. Tuna, wahoo, sailfish, sharks and even marlin are possible big game species that can be caught trolling along these offshore weedlines too. When you hook into a dolphin, watch for others in the area. Dolphin are seldom alone. If you spot any others, do not boat the fish you are fighting. Leave him in the water and quickly cast out a couple pitch baits. The other dolphin will stay nearby as long as you keep the dolphin on the line. Catch 'em up quick! Dolphin fishing is a lot of fun, especially when you get a school of them around the boat.
On the reefs and wrecks in 100 to 300 feet of water, bonitos and kingfish are still very active. Trolling is a good way to bend the rod and catch everyone some fish. Occasionally, we'll hit a wahoo or large tuna trolling the reefs too. Sailfish are starting to get rolling. This is the start of the sailfish season in Fort Lauderdale. Sailfish are the most sought after gamefish in the ocean and every year thousands of game fishermen flock to South Florida for our epic sailfishing. There is nothing to match the exhilaration and sheer joy of catching a sailfish. No other fish puts on such a fight and such a show as a sailfish does, leaping high into the air trying to shake the hook. Sailfish put the "sport" in sportfishing. From September through February, we're lucky enough to have some of the world's best sailfish action just a mile off our coast. Kite fishing is the preferred method to go after sailfish because of its high hook up ratio. It involves flying kites which are used to suspend the baits on the surface of the water. This keeps the baitfish alive and splashing on top, making vibrations and fish in distress signals, which draw in inquisitive gamefish. Kite fishing is great for catching sailfish, sharks and just about any surface feeding gamefish.
This is an awesome month for sportfishing in Fort Lauderdale. Have fun, be safe and Tight Lines!
Capt. Brett Magers
New Lattitude Sportfishing
(954) 707-2147
www.newlattitude.com