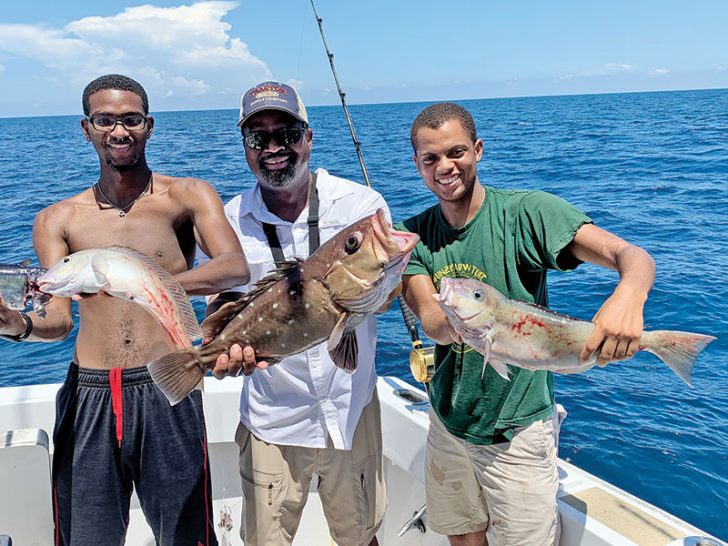 Finally, we're reaching the tail end of bonito season. Don't get me wrong, I love catching them. They are great action and good fighters, but there's just so many of them, it's nice to finally start getting some new fish moving through. September is the start of our sailfish season here in Fort Lauderdale. The sailfish bite improves every month from now until the peak in December. Sailfish are the most sought after gamefish here in South Florida. They put up a tremendous fight while doing all kinds of aerobatic jumps and stunts. Best of all, they can be caught using light tackle. Live baiting is the best technique for catching sailfish. We either slow troll live baits from the outriggers or use kites to suspend the baits on the surface. Both techniques work extremely well for catching these 6 to 7 foot billfish. These live baiting techniques also work well for catching cobia, wahoo, blackfin tuna and mahi mahi.
Offshore fishing gets good this month too. The peak of dolphin fishing used to be June through August, but in the past couple years, dolphin are showing up later in the season for us. Last September was the first good month of dolphin fishing we had, which lasted all the way through December. With a mediocre summertime bite on dolphin this year, I suspect that this year will be the same. Look for dolphin to start showing up along weedlines and around floating debris anywhere from 3 to 15 miles offshore. With a few tropical storms and hurricanes moving through the Caribbean, there should be a lot of stuff floating out there to fish around. Nothing gets the fish offshore biting better than just after a big storm. When fishing offshore, always keep a watchful eye peeled for birds, floating debris on the top of the water, weedlines, color changes, slicks and anything else that looks like it may hold fish.
Good fishing and tight lines!
Capt. Nick Colosi
New Lattitude Sportfishing
(954) 707-2147
www.newlattitude.com