Guides, anglers, fishing celebs and community giving back in efforts to save Everglades National Park and Florida Bay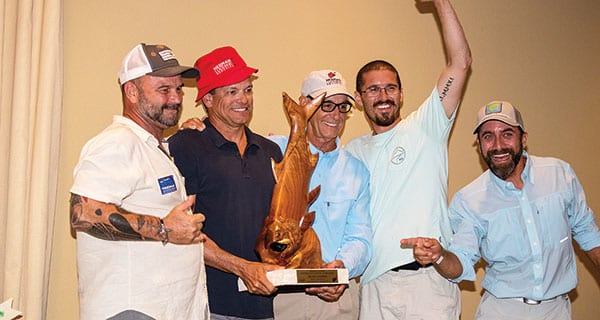 It's one of the most fun, festive, unique and challenging tournaments, as anglers' fish for seven species, set against the backdrop and intriguing beauty of Everglades National Park, while remembering the man warmly known as "Mr. Everglades."
The 19th Herman Lucerne Memorial Backcountry Championship saluted the Homestead – Florida City community activist and legendary backcountry fishing pioneer. Lucerne, known for his ubiquitous red bucket hat, spent 40 years exploring the twisting myriad of mangrove covered canals, fishing its many bays and promoting the park's protection.
Roger Fernandez, a long-time participant in the Herman Lucerne tournament but no stranger to Florida Keys backcountry fishing, won the 19th annual two-day event as the angler to catch all seven required saltwater species Roger caught all seven species on fly with a total of 259.500 points. A first in the history of the tournament.
Roger was guided by Islamorada Capt. Steve Tejera, also no stranger to the HLM. Capt. Steve Tejera also won the top guide title. Second place angler was Frank Deluca guided by Capt. Jared Raskob who also caught seven species with 197.875 points and Third place angler was Jim Bokor, Jr who also caught seven species was guided by Capt. Richard Black with 192.250 points. Another history in the making with 3 anglers that caught all seven species.
Bonefish, redfish, snook, snapper, tarpon, sea trout, black drum or bass are the focus of the two day competition. Anglers used bait, artificial or fly tackle, and could be guided or unguided. Men and women anglers of all age levels competed including a youth division for youngsters under 10, and juniors under 16. Celebrity anglers in attendance were Flip Pallot, and C.A. Richardson.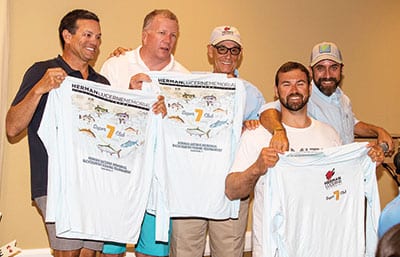 Started by Dr. Lloyd Wruble, the contest awards prizes to men, women and youth anglers in fly, artificial and general divisions. Anglers catching at least four of the seven species are then in the running for the overall grand championship title.
The unique competition, which attracted 124 anglers and 76 teams from 14 states, is a challenging two-day, "catch and release" event that is now the largest backcountry fishing contest in the Keys. The Islander Resort served as the event headquarters for the 5th straight year.
As the presenting sponsor, Hell's Bay Boatworks is a natural. The technical flats boat company is named for one of the most captivating and challenging areas in the Everglades, a bay that Lucerne graphically described as "hell to get in and hell to get out." As the Premier Product Sponsor, Yeti provided Yeti Hoppers for each angler. Platinum sponsors were Raymarine, Markham and Stein, Evinrude, Islander Resort and 3G Sound.
All proceeds from the tournament benefit the water initiative groups whose efforts are restoring the flow of clean freshwater to Florida Bay and Everglades National Park, a designated World Heritage Site.
Other first place winners included:
Top Male/Guided – Roger Fernandez, Pinecrest, Fl – 7 species; 259.500 points Capt Steve Tejera
Top Male/ Unguided – Ken Diaz, Miami, Fl – 6 species; 172.875 points
Top Female/Guided – Lindsey McGaughan, Jupiter, Fl – 5 species; 123.750 points Capt William Brewer
Top Female/Unguided – Stephanie Parsons, Naples, Fl -6 species; 140.750 points
Top Junior/Unguided – Hunter Garreaud, Boca Raton, Fl 3 species; 74.375 points
Top Junior/Guided – Blaise Walczak, Naples, Fl – 5 species; 117.500 points Capt Robert Walczak
Top Youth Angler under 10 Non Guided – Charley Ross, Miami, Fl- 5 species; 108.500 points
Top Guided Team – Jim Bokor, Jr. Buffalo, NY and Richard Black, Tavernier, FL 7 species; 199.875 points
Top Unguided Team – Ken Diaz and Rey Lopez of Miami, Fl – 6 species; 172.875 points
Top Hell's Bay Guide – Rich Campiola, Windham, NH- 6 species; 178.750 Angler, Julian Robertson, Islamorada,FL
Top Hell's Bay Angler Guided – Jim Bokor, Jr. Buffalo, NY; 7 species; 192.250 points; Capt Richard Black
Top Hell's Bay Angler Unguided – Stepanie Parsons, Naples, Fl -6 species; 140.750 points
Anglers releasing the largest species:
Bass – Lindsey McGaughan; 20.00 inches, Jupiter, Fl
Blackdrum – Roger Fernandez; 25.00 inches, Pinecrest, Fl
Bonefish – Jeffrey Harkavy; 36.00 inches,Coral Springs, Fl
Redfish – Roger Fernandez; 31.00 inches, Pinecrest, Fl
Snapper – Mitchell Gaither; 15.00 inches, Mills River, NC
Snook – Johnny Hurlburt; 36.00 inches, Orlando, Fl
Tarpon – Will Campbell; 46.50 inches, Atlanta, Ga
Top Division Grand Champions (# species)
Fly guided – Roger Fernandez; 7 species;259.500 pts
Fly unguided – Dave Preston; 4 species; 101.250 pts
Artificial guided – Jim Bokor, Jr.; 6 species; 173.750 pts
Artificial unguided – Ken Diaz; 5 species; 151.875 pts
General guided – Mitchell Gaither; 6 species;144.500pts
General unguided – Charley Ross,Youth Angler; 4 species; 83.500 pt
Seatrout – Betsy Bullard; 25.00 inches, Tavernier, FL