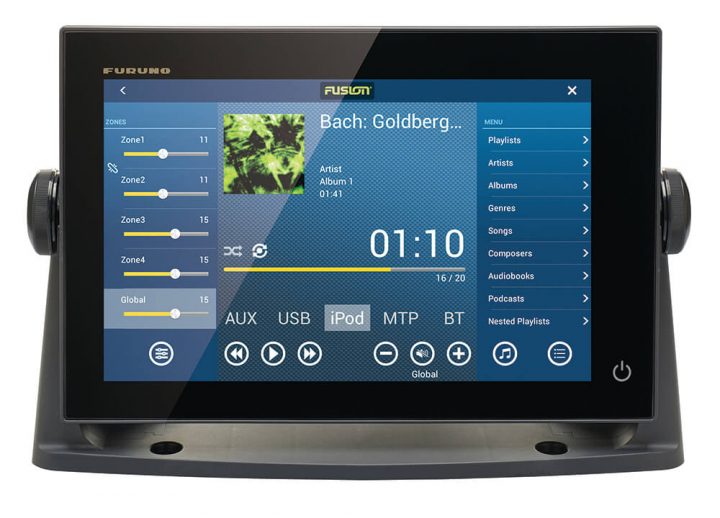 FUSION®, the worldwide leader in marine entertainment, announced today its FUSION-Link audio access system is now supported by the Furuno NavNet TZtouch2 series.
"We are excited to extend FUSION-Link capabilities to Furuno's latest and most advanced TZtouch2 displays," said Chris Baird, managing director, FUSION. "Furuno owners with the latest hardware and networking capabilities can now enjoy the convenience of our award-winning marine audio at their fingertips."
The only 'True Marine' entertainment solutions on the market, FUSION stereos give Furuno owners unparalleled reliability and performance, and multi-zone audio configuration specific to their vessels. FUSION's innovative FUSION-Link allows boaters to navigate all stereo sources from their MFD and provides full control of iPod/iPhone/Android or CD/DVD music libraries. Boaters can control the individual audio zones of a vessel separately or together for a true Multi-Zone experience. FUSION-Link uses a boat's Ethernet network to connect the Furuno NavNet TZtouch2 to the FUSION-Link interface.
"As a second generation NavNet TZtouch, TZtouch2 boasts a number of refinements in design, hardware and user interface," said Ryo Yamasaki, NavNet TZtouch2 product manager, Furuno Marine Electronics Products Division. "In addition to its quick and easy audio control with the touch screen, TZtouch2 features a new Fusion Auto Volume option which automatically adjusts sound volume based on the speed of the boat. With TZtouch2, FUSION audio control is simpler and more convenient than ever before."
For more information on FUSION-Link and compatible Furuno displays, FUSION or its entire line of marine audio products, contact 623-580-9000 or visit www.fusionentertainment.com. For compatible devices see www.fusion-link.com.