The tragic death of a dedicated husband and father just before Thanksgiving in Georgia should serve as a reminder to all outdoorsmen that lanterns, space heaters and campfires, when improperly handled, can be just as dangerous as a loaded rifle propped against the wall with the safety off.
Brandon Carter, 36, of Oconee County, Ga., was killed Nov. 20 when an electric space heater ignited a fire in the small wooden cabin he was sleeping in at his rural Georgia hunting camp. Carter's father-in-law Steven Momberg was badly burned attempting to rescue the man, who was trapped inside the cabin by flames that blocked the only door.
It was a nightmarish scenario that could have taken place at so many makeshift hunt camps that spring up on timberlands across the Southeast. While gun safety is at the forefront of most hunters' minds, fire safety tends to be an afterthought, even with all the highly flammable fuels and paraphernalia necessary to the camp experience.
The tragedy occurred around midnight after the two men had retired to separate buildings. Carter's cabin and Momberg's trailer shared a long, covered front porch. They were nestled among more than a dozen other stick-built wooden cabins and campers of BigEye Hunting Club.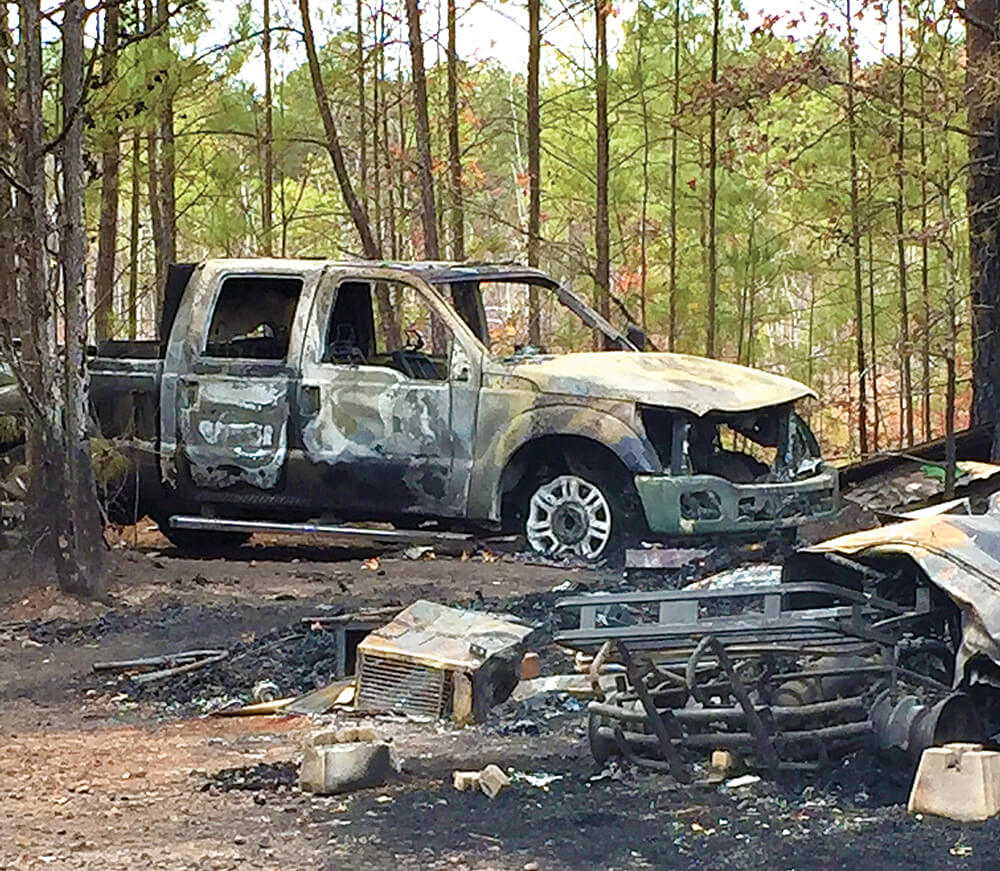 The blaze began in Carter's cabin and spread rapidly in high wind. Momberg woke to the sound of ammunition popping and intense heat. With propane canisters exploding around him, he tried in vain to rescue his daughter's husband. When a 4-wheeler parked near the door erupted in flames, Momberg was thrown into the yard. He then ran to a nearby house where the residents called 911.
By the time responders cut a firebreak, the blaze had consumed five structures, two trucks, the 4-wheeler, three golf carts and everything in and around the buildings. The two men were the only hunters in camp that night.
The tragedy highlights the importance of multiple points of egress, whether it's a second door, a trap door in the floor or windows unblocked by bars or AC units. Basic fire safety equipment like smoke detectors and fire extinguishers are inexpensive peace of mind. And just being cognizant of things like not overloading electrical outlets, not burning lanterns and gas heaters indoors, extinguishing campfires, clearing flammable debris from around structures and how fuel is stored can make camps safer.
On the Sunday morning before Thanksgiving, Carter's newly widowed wife Tammi woke her two children—Chase, 10, and Bayli, 9—to tell them they would never see their father again.
"It helps me to think there's something we can do to help, something good that can come of this," she said, "even if it's just to let other daddies know so this doesn't happen to their families."
A GoFundMe account has been set up for the Carter children to ease the long-term financial burden they will surely feel the loss of their father, the family's primary breadwinner. Donations would be appreciated at https://www.gofundme.com/trust-for-brandon-carters-children.