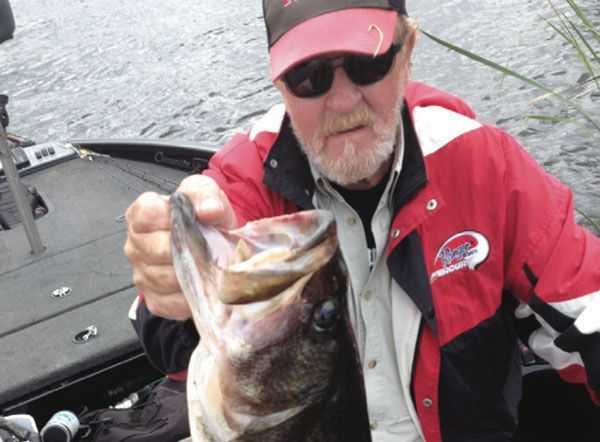 Most people think of Lake Istokpoga or Lake Okeechobee as the BIG BASS destination lake in Highlands and Okeechobee Counties. Lake Okeechobee bass fishing is great, but what many fishermen don't realize, particularly if they are driving down from up north, is they drive right past one of the best BIG BASS lakes in South Florida.
Lake Glenada is a natural lake that sits in front of the South Florida Community College campus on the east side of State Route 27 in Avon Park, Florida. The lake itself has an irregular shape and has a surface area of 197 acres. Although it is only about 3⁄4 miles long, and less than a 1⁄2 mile wide, it has depths over 35 feet in the deepest sections.
The lake actually has three different sections, and at some point, perhaps hundreds of years ago were probably three separate lakes. Each section offers similar shoreline vegetation with depths of 15', 25' and 35'.
There is only one launch site on the lake, recently improved, as well as a T-shaped fishing dock. It's one of the few lakes in Highlands County that offers great fishing for folks without a boat.
I started fishing Lake Glenada around 1990 and although I don't fish it as often as I used to, the lake offers excellent bass and crappie opportunities. Due to its size, the lake seldom is home to tournaments, although during the week you may find small 3-6 boat tournaments that run from 7am to noon.
The shoreline is essentially covered with bulrushes and reeds with scattered lily pads and some hydrilla. Flipping and pitching are probably the most popular technique, although the varied vegetation offers excellent opportunities with spinnerbaits, crankbaits and plastic worms.
What I like most about this lake is that you can launch your boat and never start up your outboard motor. Right next to the boat ramp, whether you go left or right the fishing begins and you can literally fish the entire shore line in a day and end up back at the boat ramp.
The best time to fish this lake is January, February and March. Because the lake holds deep water, water temperatures aren't affected by cold fronts moving through Highlands County as much as shallower bodies of water like Lake Istokpoga and Lake Okeechobee. But even during the summer months, this lake will produce big fish.
I've caught hundreds of bass flipping the bulrushes, with a number of them over the 10 pound mark. Unlike many of the clear water lakes in Highlands County, the water in Lake Glenada is a dark, tannic color, and my favorite flipping jig is a blue black Medlock Jig with a blue-black Reaction Innovations Sweet Beaver.
My biggest bass was taken a couple of years ago and weighed just over 11 pounds, although I've seen bigger fish caught and released in this small local lake. My best day on the lake was 5 fish weighing over 30 pounds, with two matching 8 pounders, all caught on a Gary Yamamoto 5" Senko Worm.
Because the lake is essential three lakes in one, moving from the first lake to the larger, deeper second lake, there is a 'ridge' or underwater hump that rises to 8' running from shoreline to shoreline between the two sections. This is an area favored by many fishermen as the bass will often move up both sides of the ridge from deep water to feed.
Every fisherman has a great story or two about the biggest bass they 'lost' and I am no exception. I was fishing the lake one late afternoon with my Uncle Rick when a huge bass picked up my plastic worm and immediately broke the surface. I was fishing in the back of the boat and the bass initially ran under the boat only to resurface seconds later near the outboard motor. In a frantic attempt to keep the bass from getting tangled in our prop, I forced the fish back to the surface where she immediately broke water again and rushed towards the front of the boat.
Rick grabbed the net but there was no stopping this bass. She roared alongside the boat, forcing my drag to run free until I attempted to slow her down by thumbing the spool.
Forced to slow down, the big bass rose out of the water for a third time, twisted and turned her body and the 20 lb monofilament line snapped. It sounded like a gun- shot!
Of course big fish that 'got away' always tend to get bigger as time moves on but Rick and I were both convinced on that day that this bass was a true monster. I conservatively estimated her weight at 15-16 pounds, while Rick was certain she was closer to 18. We'll never know, but it does support what many fishermen believe.
Lake Glenada is a Big Bass Lake!