By Captain German Bustos
We are finishing up the off season and looking forward to November and December which almost always means good marlin and dorado fishing.
Captain Luis Kraemer has stayed fairly busy during the last month and has taken plenty of snapper and roosterfish inshore and lots of tuna, dorado, and some marlin offshore.
Captain Oscar Villalobos has done well on the offshore Fad's with marlin and also taken a good number closer inshore, as close as six to eight miles off the beach.
An El Nino is expected to arrive soon but it is not predicted to be as strong as last year. Expect good fishing in November and December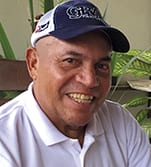 German Bustos has been head captain at Crocodile Bay Resort for the last dozen years after working on prestigious sportfishing boats all throughout Central America for nearly 20 years. He is one of the most requested captains at Crocodile Bay.