By Captain German Bustos
Offshore the Osa Peninsula, sailfish have been a little spotty but tuna, dorado, and marlin have kept angler's lines tight. Yellowfin tuna have been an almost daily occurrence below pods of spinner dolphin. After being nearly non-existent the last few seasons, dorado have been around in good numbers all year.
Marlin numbers have really increased since the tuna boats have been pushed offshore, leaving lots of tuna and dorado for them to gulp down. Not only are the anglers venturing out to the FADs doing well, but good numbers of marlin are being taken closer to shore.
Inshore, the rainy season always means bigger roosterfish as the 40 lb. plus fish move in to haunt the surf and inshore rock piles. Snapper have been consistent, mostly dinner size, and jacks and African pompano have been biting well. Pargo seda, or as some call them, Pacific red snapper, have moved onto reefs in the 300-foot range and have been taken with a few grouper, tilefish, and an occasional barrelfish.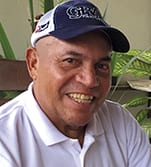 German Bustos has been head captain at Crocodile Bay Resort for the last dozen years after working on prestigious sportfishing boats all throughout Central America for nearly 20 years. He is one of the most requested captains at Crocodile Bay.