By Captain German Bustos
The marlin and dorado hung in the area much longer this season. The last few seasons, the dorado were nearly absent, but this year it has been a bonanza.
The sails were late to arrive but in late February and early March the numbers grew to double digits. I believe the amount of bait and late arrival will keep the sails in the area in big numbers through April and into May.
Yellowfin tuna are almost a daily occurrence and should continue the following months.
The moon and big tides slowed the inshore action in March, but in April the big grouper move closer to shore for deep jiggers and bottom anglers to enjoy.
Roosterfish should stay consistent with bigger fish moving into the area as the rainy season approaches in late May.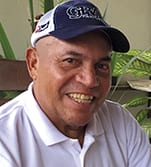 German Bustos has been head captain at Crocodile Bay Resort for the last dozen years after working on prestigious sportfishing boats all throughout Central America for nearly 20 years. He is one of the most requested captains at Crocodile Bay.