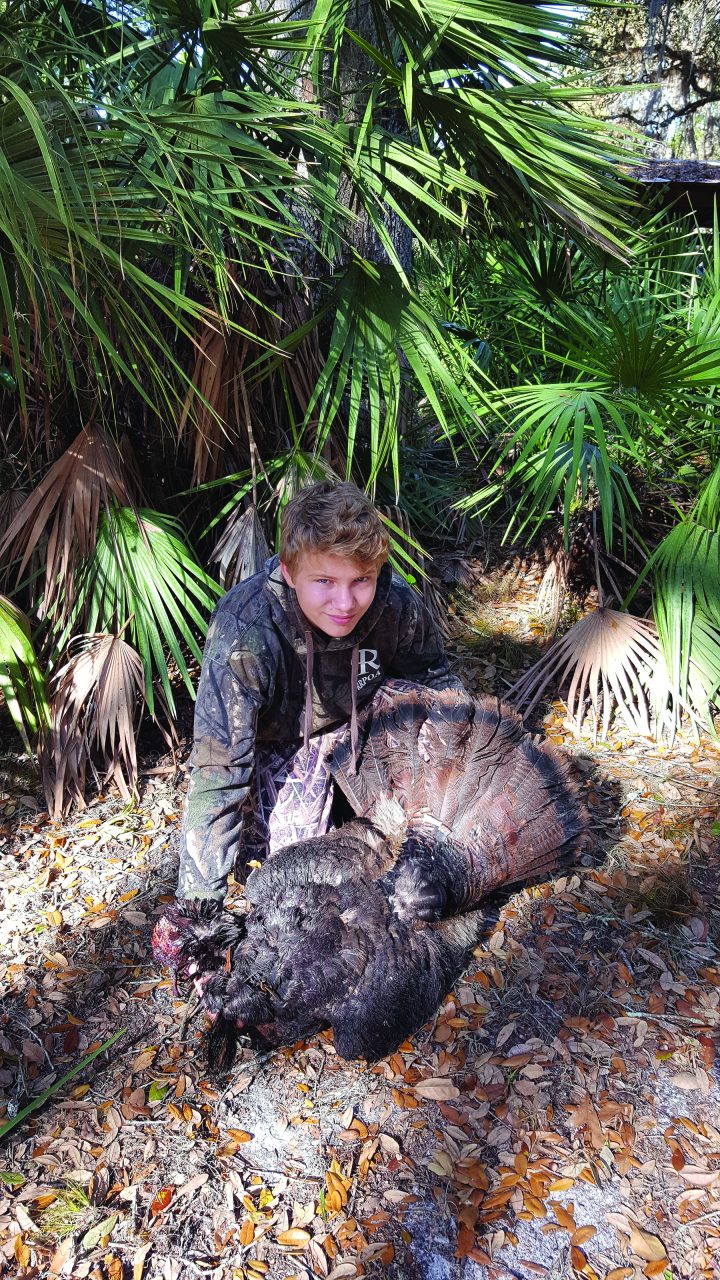 By Cliff Kunde
Wild turkey season always brings so many great memories to mind and for the last dozen years or so, the joy of creating those memories has been paramount for me. As my father would say, "It is the adventure not the harvest", but we've found that the harvest can turn the adventure into a life changer. To spend time exploring the woods and learning the ways of Mother Nature is fantastic when added to a successful harvest with pictures and mounts to back up the memories.
This year, as in many years past, we've sponsored a youth turkey hunt where only those who've never harvested a turkey and have their hunter's safety course completed through the FWC and are under 16 can participate. The woods are reserved for the youth and adult supervision. This is in conjunction with the FWC program designed to introduce our younger generation with the activities we have grown to love and appreciate. The special youth season also takes place a week prior to regular spring gobbler season so there are no others allowed in the woods. The safety of kids, adults and animals is of utmost importance.
This years event took place in Central Florida about 54 minutes from Disney World, as my daughter would say. A private facility with pines, cypress heads and palmetto flats embedded in a cattle ranch. The kids arrive with their fathers, mothers, grand parents or whomever is their sponsor, and get a quick refresher course on firearms and safe handling there of. The next morning it is to the fields for some guided hunts. For some reason, I have no problem recruiting guides for these adventures, most of them are anxious to get into the field anyway.
This year, due to some disciplinary problems, we only had two candidates that qualified, 10 year old Damian and 13 year old Kellas. Remember if you're not good at home, you won't be good in the woods. The boys were fed venison stew before retiring Friday night and awakened very early Saturday morning to get in the blinds before daylight. The morning was a crisp 56  degrees and everyone bundled up accordingly. Each hunter and their guide were taken to preset blinds and dropped off before the East started to get gray. When the first sign of daylight comes, the "long beards" start their conversations to find out where all the girls are. The hens will cluck back telling the guys they are not interested, but they really are and the process goes on for a while before they all fly down from their perches. Think back to you high school days and you'll understand.
We only allow mature male turkeys to be harvested, so you must keep your attention on things at this point. By golly, when a big old tom turkey flies down next to you, I just don't know how you can pay attention to anything else. This is the first opportunity you get, not the last because they will start  following those hens around and this is when they get Stupid. We set out decoys of hens and other older toms and if they are lifelike the toms will come over to challenge the intruders, be they decoys or not. This gives a great opportunity to just observe what transpires in the woods naturally.
The 10 year old had several long beards within 10 yards this year, but he was not ready to take the shot. It's OK, we have next year to try again. The 13 year old, Kellas, took his shot and harvested a beautiful 9 ½ inch long beard with 1 ½ inch spurs and weighing in over 16 pounds. He has been here several years and this time was the charm. We've had a good number of girls try and although not successful at their first bird, they will be back for the adventure. We encourage anyone out there that has an adventurist spirit to check "MYFWC.COM" for details where and when you too can get involved. They eat good too!