By: Capt. Matt Whitney
Whitney Charters
(616) 846-6325
www.whitneycharters.com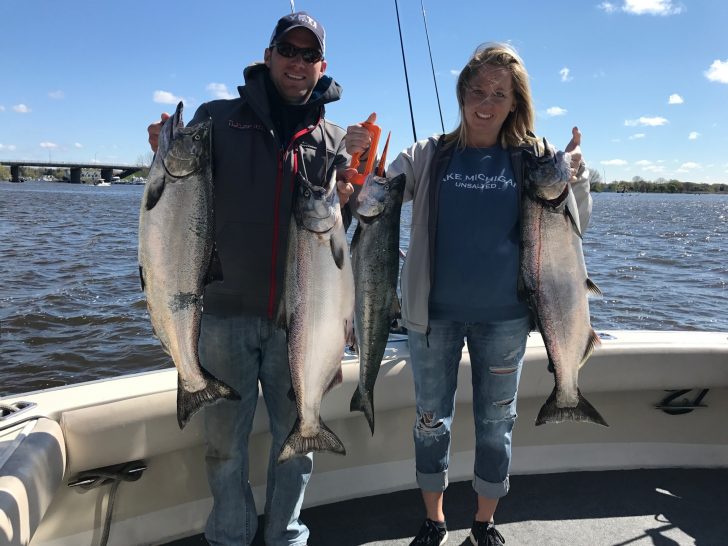 As I'm writing this, we are experiencing some of the fastest salmon fishing I've seen in several years. Limits of up to 30 fish with a nice mix of kings, cohos and a few steelhead are being caught. For June, look for an early start to lake trout fishing as the forecast looks warm for the remainder of May. Baits you'll want to have ready are the Luhr Jensen Trash Can Dodger and the yellow with an orange dot and lemon lime Spin-N-Glo's. Another reliable lake trout catcher is a 10" Chrome Spin Dr. with Mt. Dew tape and a chrome and yellow dot Whirly Gig behind it. I like to run a mag diver on wire line on each side of the boat and the center downrigger rod within a foot or two of the bottom, pulling the combinations I just described. Change the distance of your bait from the rigger ball from 3' to 30' until you find the sweet spot. Keep your speed in the 1.8 – 2.4 mph range and set the table for some tasty trout! Make sure your driver puts the boat into neutral now and then as lake trout love to follow baits and will frequently strike when there's speed change. Don't forget to check and clear your hooks of zebra mussels occasionally if the fishing is slow.
Towards the end of June, look for Skamania strain steelhead to show up in good numbers around the pier heads anytime the water temps dip below the mid 60's. Load up with spoons and Thin Fins in red with black markings and stay near the river mouth. Steelhead often like their food served fast, so speeds of up to 3.5 mph are often required to get them to strike. Steelhead are not always the first to wake up so don't be afraid to give this fishing a try at any point during the day. As a bonus, we often catch an occasional walleye when conditions are right.
Good luck and have a great summer!
Matt