By Joe Greco NYS Licensed Guide, Justy-Joe Sportfishing Charters:
Nothing gets my blood boiling like chasing giant night-bite walleyes in the late fall. When water temperatures begin to fall and the days grow shorter the feeding activity for many species of predator fish increases dramatically. My personal favorite species to target this time of year is the walleye, also known as "Ol' Walter". Although they are known for their illusiveness and downright refusal to bite at times, they can be particularly vulnerable this time of year as they will be "packing on the pounds" in preparation for the spring spawn.
After the turnover period water temperatures stabilize and the thermocline vanishes. This is known as the "cold water period" and will set the stage for some unbelievable fishing right up until ice formation. The magic number for this phenomenon to happen is when water temperatures dip below the 55 degree mark and the bite can remain consistent well into the low forties. Multiple species will be heavily feeding during this time period and anglers willing to endure the cold can expect excellent action when targeting walleye as well as pike, bass and pan fish. Walleye, being primarily low-light feeders, often save much of their energy until day light gives way to darkness.
Every night like clockwork these fish will make a routine voyage from the depths to proceed on with their midnight feeding binge consisting of vulnerable baitfish. These fish will slide into shallow areas and lie waiting to ambush bait as it swims by haphazardly. This is a great opportunity to catch some of the biggest fish in the system and can be regularly caught in the 24-27 inch range. Many of these giants will be female walleyes feeding to assist in egg production in anticipation of their spring spawning run. It is CRITICAL to release these big females as they will be most vulnerable this time of year, and it is our duty as sportsman to be aware of what is going on in our environment and make good decisions to ensure quality fishing for many years to come.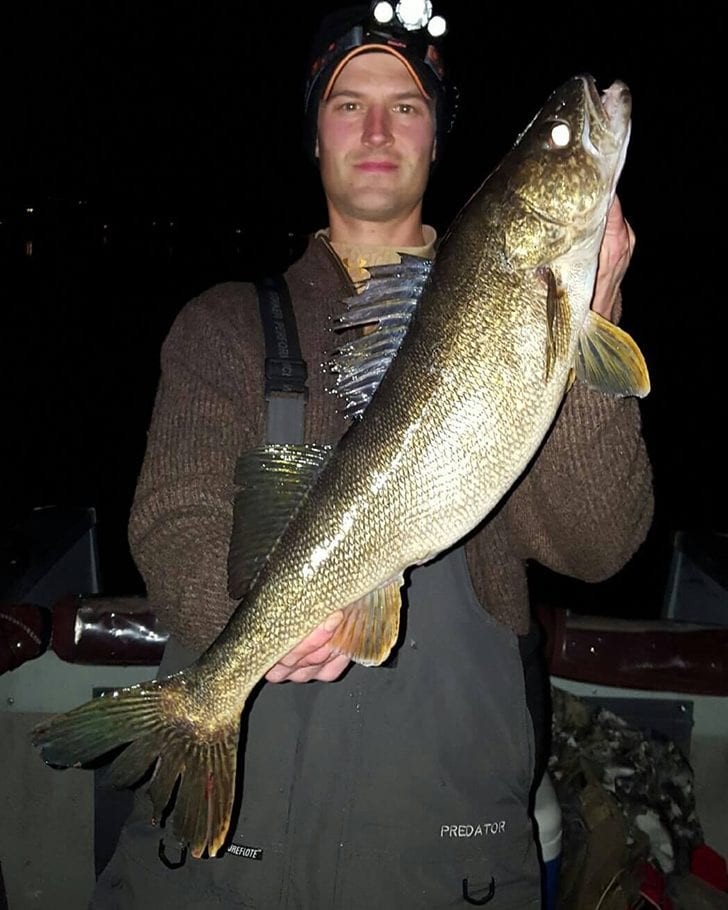 Let's talk location. Two words that I could tattoo on my forehead because I use them so much are "green weeds." After the turnover period, oxygen dispersal is relatively widespread and weed growth begins to die off primarily due to the angle of the sun and the lack of photosynthesis taking place. This means that any weeds still green and rich in oxygen will be grand central station for baitfish as well as hungry predators. Some other key elements that attract fall walleyes are the presence of current and quick access to deep water. Having deep water in close proximity is critical as sudden cold fronts or bad weather often associated with late fall can push the fish out to the depths. Deep water also serves as a loafing area where fish will congregate during the daytime and may or may not be actively feeding.
As with any kind of fishing, the rule is 90% of fish will be located in 10% of the system. This translates into spending time finding the fish. Scouting is an essential skill when night fishing and the way you scout is by fishing a series of pre-determined locations with search baits. These will be slightly larger baits that stand out well under dark conditions that also rattle and make noise. You're looking to quickly attract an aggressive fish in the school tipping you off that you have most likely found some walleye. If you catch one there will usually be more and from there you can fine tune your presentation downsizing or changing colors if necessary.
Casting is usually the best technique as fish will most likely be stacked up on very specific structural elements but slow trolling can be deadly as well. Although the fish will be feeding heavily at this time, a slow presentation is often the standard as cold water causes the fish's metabolism to operate lethargically. A slow retrieval, frequently stopping after a few wobbles of the bait is essential. Often times, just the bait suspending lifelessly in the water column will trigger a savage strike. If I do decide to troll I am typically targeting the upper half of the water column and using my Minn Kota I-Pilot to cruise just fast enough to get a slow wobble out of the bait. If the conditions are right and the fish seem to be suspended out off of the structure a bit I will troll slowly keeping just off the break or weed line. I will run floating stick baits with a couple split shot or a couple colors of lead line to get the presentation between five and ten feet which seems to be a good zone.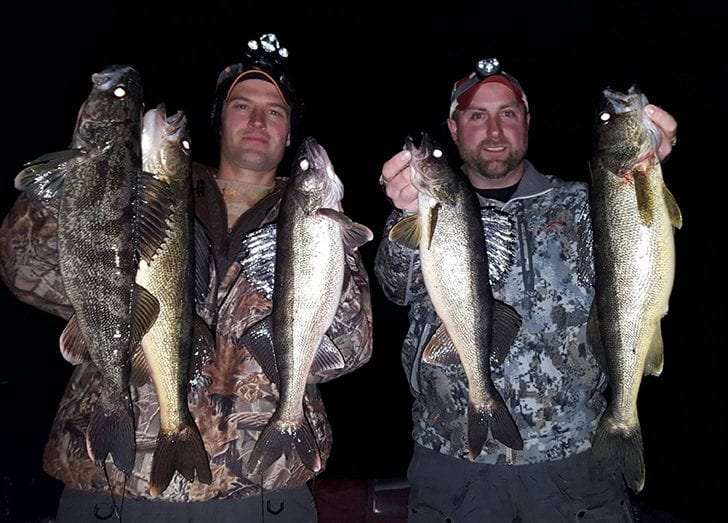 My personal set up for casting sticks consists of a 7ft medium-light spinning rod spooled up with 10lb power pro braid. A braided or fused super line is the way to go, as the no-stretch sensitivity is critical for feeling the slightest bite. The angler must pay great attention and keep a constant tension on the line as the bite often times can be felt as just a subtle "tick." As for baits a few classic patterns that are always on my rods that time of year are Rapala husky jerks size 9 and 12 and Smithwick rattlin' rogues, experimenting with colors as I fish. Typically clown, white, perch patterns and chartreuse are just about all you need but blue and silver with an orange belly can also be deadly. Don't be afraid to get the glow paint out and hit he baits here and there with some lines or dots to add a bit of attraction. Pay attention to moonlight which will showcase the flash of shinier more natural patterns. On dark or cloudy nights with the absence moonlight brighter painted patterns like chartreuse and white will get the nod. I like a 30" fluorocarbon leader spliced into the braid which acts as shock absorber as the braid has no stretch and can pull hooks. I always use a high quality Rosco duo-lock snap as my connection. These high quality snaps made by Rome specialty co. are a finesse style snap that will give your baits optimal action resulting in more strikes.
I'd like to stress that fishing in the dark can be a very mental game. You can't see well, its cold out and it can be very easy to give up after an hour or two of no customers. There will be magical windows of feeding and telling yourself this will help you stay focused when the conditions are tough. You have to be persistent to be rewarded and the rewards can be great, however, this is not a game for the faint of heart. I'd like to share a short story after a recent trip in December last year to give you an idea of a typical outing.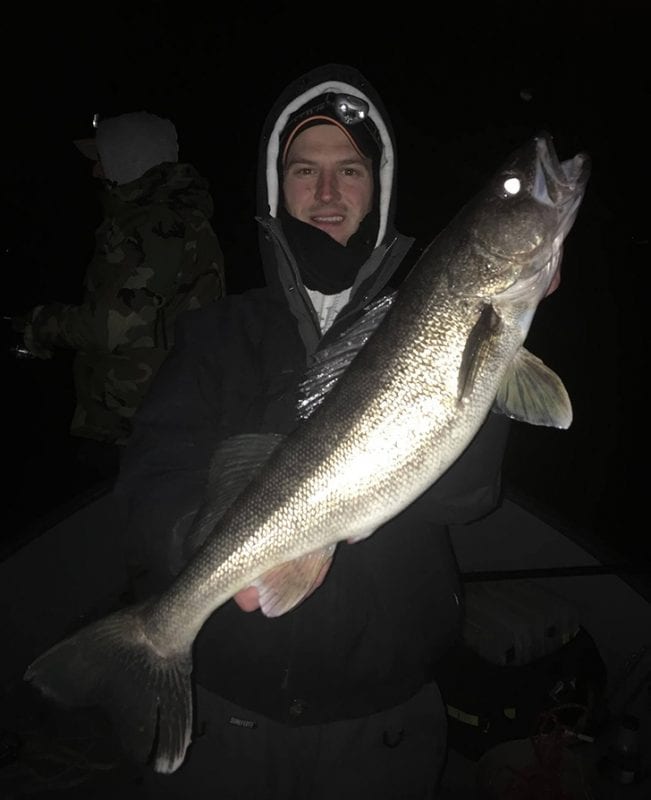 It was 22 degrees at the boat ramp, the obligatory bucket of sand was in the back of truck as I know on nights like tonight it can get slick! We dropped the boat in and off we went. It was a pretty darn chilly one that night, water temperature was 49 degrees and the moon was just about to come up over the tree line. We arrived at our first spot and killed the motor. It's important to understand how sensitive these fish can be to noise and I am always favoring the side of caution by killing the outboard motor way outside of "the zone" and cruising in slowly using the electric motor in full stealth mode. My fishing partner and I got out our weapons of choice and went to it.
With an hour into the trip we had not a single bite and every five casts or so we found ourselves de-icing all our eyelets so we could continue casting. We ended up catching a few fish that night but nothing huge. Eventually the freezing temperatures kept our lines iced up and it got so bad that we had to call it quits. You will have nights like this and you will learn to endure these conditions if you want to be successful as the action can be fast but short lived. The fish tend to feed sporadically and very aggressively which means you will have to put some time in and stay focused.
If you haven't had a chance to try Fall night fishing, break out the long johns and the ice fishing clothing and give it a shot. You may be surprised just how hot the fishing can be on those cold autumn nights. Good luck out there and be safe!